These two beautiful scents are most likely the only thing from Versace that I'll ever have and thats fine because they are fantastic! I have been sniffing these two (that sounds really creepy…) for a very long time but I never took the plunge. Until NOW!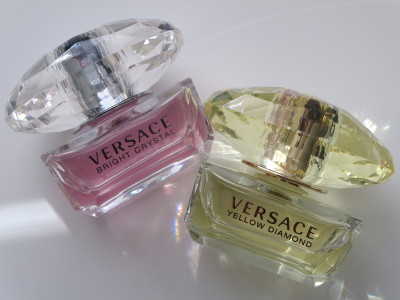 Bright Crystal is a pretty citrusy floral and my favorite out of the two perfumes. It just smells pretty and fresh. I don't think its a unique scent because I think it smells like a few other things I've had but I still love it to death. The name is pretty good too;)
From Sephora.com:
Inspired by a mixture of Donatella Versace's favorite floral fragrances, Bright Crystal is a fresh, sensual blend of refreshing chilled yuzu and pomegranate mingled with soothing blossoms of peony, magnolia, and lotus flower, warmed with notes of musk and amber.
Notes:
Iced Accord, Yuzu, Pomegranate, Peony, Magnolia, Lotus Flower, Acajou, Vegetal Amber, Musk.
Style:
Sheer. Sensual. Luminous.
Yellow Diamond smells just as amazing almost. To me it's a little more unique of a scent. I smell more citrus. It's got an orange/lemon like freshness to it that makes it more of a cleaner smell to me than being florally beautiful like Bright Crystal. But don't get me wrong I am really happy that I got them both!
From Sephora.com:
Pure as sunlight, a bright, extraordinary yellow light radiates with a fiery intensity and sparkles the way that only a diamond can. An authentic jewel of rare beauty is unveiled in Yellow Diamond, a fresh and vivid floral perfume by Versace.
Like a burst of light, the fragrance gleams and glistens as it opens with notes of bright citron, a fresh pear sorbet, sparkling bergamot, and an accent of neroli. As its heart emerges, the rare elegance of orange blossom shines through the light of freesia and mimosa with the natural transparency of nymphea. The lingering base notes add a fascinating sense of sensuality with ambery woods, the sunny and vibrant character of palo santo wood, and the refined presence of musk. 
Notes:
Citron from Diamante, Pear Sorbet, Neroli, Bergamot, Nymphea, Freesia, Orange Blossom, Mimosa, Amber Wood, Palo Santo, Musk 
Style:
Surprising. Radiant. Fascinating.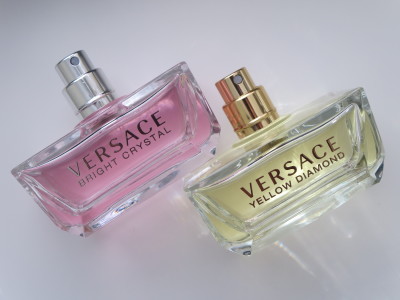 I got 1.7 oz. bottles and the caps on these two pretty perfumes are works of art. They are both huge and have the Versace symbol in the center. Very classy!
These are two really nice things to check out the next time you are at Sephora. I didn't purchase them there (1.7 oz is $70) because you can get a much better deal at one of the online fragrance sites like FragranceNet.com or Perfumania. They have the best deals. Perfumania for example is having a 25% off sale this weekend for Valentine's Day (the code is VDAY25) which is really nice. You can get a great deal during a sale like that.
Let me know if you have checked either one of these out!