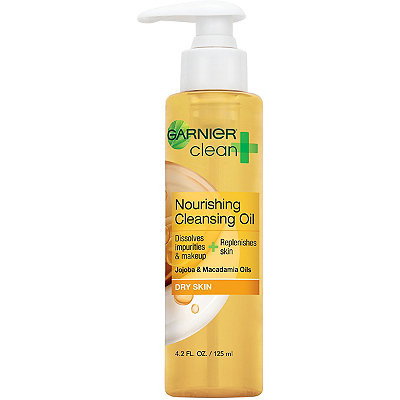 Not long ago I picked up the new cleansing oil from Garnier. I was beyond excited that there was a cleansing oil at the drugstore. I've been a lover of oil cleansing for a little while now and using oils gets expensive. I use Mac's Cleansing Oil most often (reviewed here) but I've tried others. None of them were cheap!
Just in case you are new to using oil it practically melts your makeup off. I really feel like its more gentle than using makeup wipes and I love that I don't have to tug at my skin. I was scared to try using an oil to begin with for years because I have combo/oily skin. The thought of using something I've been avoiding most of my life terrified me.
The directions for using this oil are the same basically as all of others I've used. You apply a few pumps to your hands and massage it into your skin. I take special time and care around my eyes. I love how oil removes the toughest long wearing eye makeup easily. After you work in the oil you just rinse your face with water really well. At this point my face is free of makeup. The other big question that I get is are you done at that point? For me the answer is no. I go in after the oil with Purity Cleanser. After that my face is perfectly clean and not dried out which I like. I can go in with a light moisturizer and I'm good.
From the Ulta website:
Customized Cleansing: Nourishing Cleansing Oil instantly dissolves impurities and long-wear makeup with no greasy residue. 
Skin Type Specific Care: Formula, infused with nourishing Jojoba and Macadamia Oil, helps replenish skin's moisture balance.
In 1 use: Skin is deeply cleaned, hydrated and skin feels velvety soft. After 1 week: 100% of women felt skin was smoother and softer.
(4.2 fl oz.)
How to use:
Make sure that hands and face are dry. Apply 1-2 pumps to fingertips and massage onto skin. Close eyes to remove eye (area) makeup. Wet face to emulsify oil then rinse thoroughly.
Now what separates this Garnier oil from others I've used? It's thickness. This oil is slightly thicker than all the other oils I've used. That is most likely because as a smart YouTube subbie told me it's geared toward dry skin. It says that right across the front. But the question is does it make me break out or change the routine I've described above? Thankfully no. I highly recommend this oil because at around $8 its a great value and a great intro to using cleansing oil for anyone thats been on the fence thinking about trying it. Why pay $30 for Mac Cleanse Off Oil (I get the Pro discount but still!) that is 5 oz when you can get Garniers oil for $8 and you get a 4.2 oz bottle.
Check this out at your favorite drugstore, its everywhere!