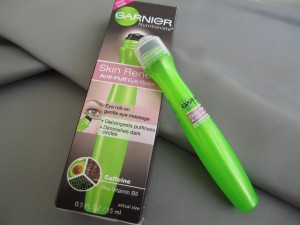 I've been eyeing (LOL) this product for a while. I have under eye bags like nobody's business, suitcases really! I've been waiting for this to go on sale and this week at CVS it's $10 so I picked it up finally.
The directions sound easy enough. All I have to do is gently roll this on under the eye from the inner corner to the outer corner a few times. Then smooth in any excess. I can use it in the morning and as I like throughout the day. Sounds good, hope it works! Caffeine and Pro-vitamin B5 are among the ingredients in this "magic" roller. I am supposed to see some results after a week or so. I should see the under eye puffiness diminish as well as my dark circles. Then with continued use I should see even better results with my puffiness and the dark circles should stay away! I will let you know how this goes. It can be my holy grail or a total waste of time….
Have you purchased this Garnier eye roller? Let me know!
Rated ?
Disclosure: I purchased this item myself!