You know I love y'all right? Well here's a way to show you!
Le Metier De Beaute lip colors are amazing. One of the most amazing colors in my stash is Red Velvet. It's a beautiful red that's limited edition and I got a tube and posted on it months ago. Brace yourself and check out that post here. It's something else. Well I got another one as a GWP recently and I would love to share it with one of you! The outside got a little beat up since I dropped it in the parking lot (thank goodness the tube is plastic) but the gloss is in perfect condition. I on the other hand need to work on my hand-eye coordination!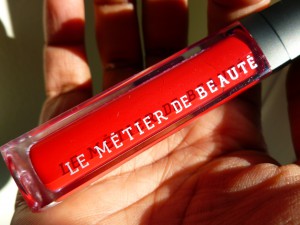 Le Metier glosses are usually $36 so enter to win! Special thanks to Kathy Shoreman at Neiman's for giving me the best GWP ever to pass along to one of you.
Please use the Rafflecopter Giveaway tool below. Good luck!