Lip gloss makes my world go around. So when I came across Hard Candy's Glossaholic in Walmart I was ready to give it a go!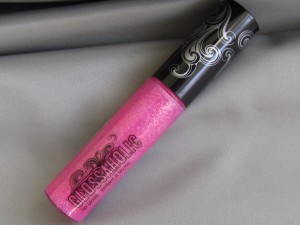 Tipsy $5 (.38 oz.)
There are several beautiful shades available. Hard Candy Cosmetics just came to my Walmart's makeup section. I have tried their baked eyeshadows too. I really like them. This gloss shade, Tipsy is a beautiful pink. It's got a lot of sparkles in it. Two different types or sizes! The smaller sparkles are fine but the larger ones are something I'm still getting used too. If you look very closely at the picture below maybe you'll be able to see what I am talking about.
There are fine (small) sparkles and much larger ones. I'm not so crazy about the larger ones. They remind me of the glitter I used in class art projects when I was in grade school. Strange….but overall this gloss looks amazing on and I love this shade.
This gloss doesn't have a scent to it but it does have a slight taste to it. It's kind of yummy too! It's not too sticky or tacky and stays put on your lips for a long time.
Rated B
Disclosure: I purchased this item myself!