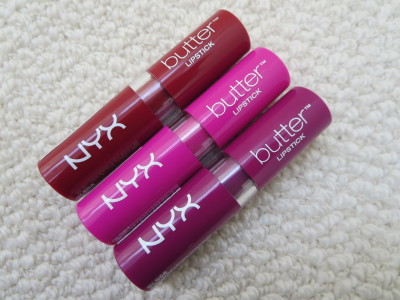 NYX Butter Lipstick, $5.99 at Ulta
I love these new lipsticks from NYX! I picked them up weeks ago at Ulta and they are on constant rotation in my stash lately. I got three pretty colors and there are a lot more available so I might have to see what else I might like in the weeks to come. For $6 these are a serious bargain. They are buttery smooth and the pigmentation is fantastic as well. These lipsticks have a satiny finish that feels nice and cushy on the lips but they don't have too much give as say a Revlon Lip Butter. I've had so many lip butters melt on me or in my bag and I still love them but I like having something that stays solid and doesn't go all melty on me. I can comfortably go four hours with these Butter Lipsticks and touch up after meals. Nice product NYX! Keep churning these babies out.
Here are some quick lip swatches of my three shades. I got Razzle, Mary Janes, and Hunk.
Razzle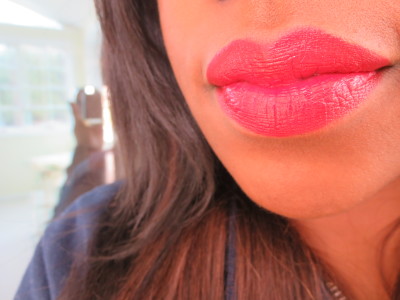 Mary Janes
Hunk
Razzle is a fun bright pink that is perfect if you want to be noticed. Mary Janes is a nice sophisticated red that my mother will steal if she sees it. She lives for reds like Mary Janes. And Hunk is a purple lovers dream. Don't forget there are so many different colors available in the line so there is something for everyone. NYX has got you covered. There are over 21 shades in all!
Try one of these next time you are at Ulta or anywhere NYX products are sold. I think you'll fall in love! My favorite out of the three Butter Lipsticks I got is Hunk. I love purple on the lips especially during this time of the year.
Please let me know if you have tried one of these yet!