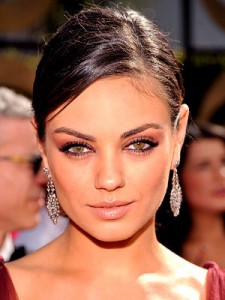 I always love Mila's makeup. I like it because it's always something I feel like I can do and its all about the eyes. Her eyes always seem to be doing all the talking. She doesn't need to say a word! In all the pictures that I've seen I don't think she or her makeup artist like to take many chances. It would be great to see her with a different look every once in a while. Thinking outside of the box and playing with different looks is good for everyone.
Her eye look is always on point so I think I will continue to try to recreate what I see when she's on the red carpet. Is there anyone who you love seeing pictures of because they inspire you? Do tell!
Check these other girls out who inspire me. I Always Love Her Makeup: Beyonce and I Always Love Her Makeup: Rihanna.