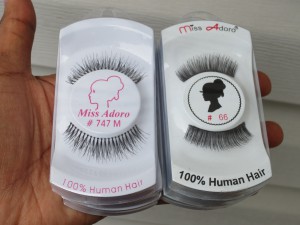 Do you love using lashes? I do! It's fun to really amp up your look using them. Especially at night. For a fun little giveaway I thought I'd give one lucky winner out there six pairs of my favorite lashes.
I love Miss Adoro lashes and the #747′s and #66′s are my favorites. I have three sets of each of those two styles for you if you win. On average Miss Adoro's really last or wear well. I can get at least five or six uses out of each pair if I'm careful.
Please enter using the Rafflecoper giveaway tool below.
Good luck everyone! International readers enter also!
a Rafflecopter giveaway