This looks crazy in the tube but nice and subtle on the lips. This is Inglot's AMC Lip Gloss #545. If you didn't catch part 1&2 of this series these lip glosses have a powerful citrus like scent but the gloss itself is really moisturizing. And it's not sticky gloss thank goodness!  The glosses are $15 each (.17 oz of product) at www.inglotusa.com or in Inglot stores.
This is AMC Lip Gloss shade #546 and it looks beautiful on. I gotta say I'm in love with all six of these AMC Lip Glosses! I find myself selecting which one to wear based on my mood. They look great over lipstick too. They add a really nice color boost and moisture boost to whatever lip color that I'm wearing.
Here is a look at these two glosses swatched on my hand. #545 is on the left and #546 is on the right: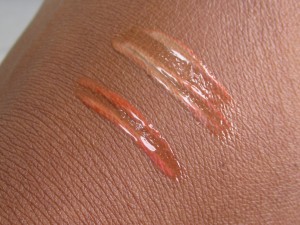 Rated A
Disclosure: I purchased all of these items myself!