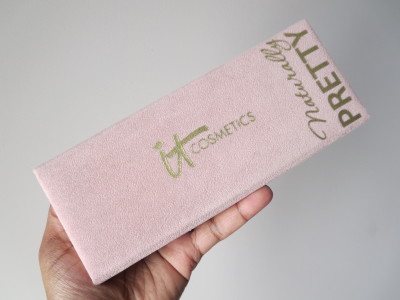 It Cosmetics Naturally Pretty Matte Luxe Shadow Palette, $40 at QVC or $42 at Ulta
If you like matte shadow shades YOU NEED THIS. I love this palette like cooked food. I'm so glad I caved and picked it up from QVC! The first time this palette became available it sold out pronto. I was on the wait list to get the next round of palettes produced in the early part of December. I got this beauty and ohhh'ed and awwwed over it for a while before I broke out the makeup brushes and dug in. It….was…incredible once I did.
The texture of the shadows is buttery with not much fall out. The pigmentation is amazing. Have you ever dug into a matte shadow shade and it was powdery or chalky and just frustrating? That's not going to happen with this set of colors. The deeper shades are more interesting and wonderful than the lighter ones to me. Don't get me wrong but I love a darker eye look. Darker shades set me off but in a good way! These colors can be used wet or dry. Because of the pigmentation and fear in general I haven't used them wet. But you can.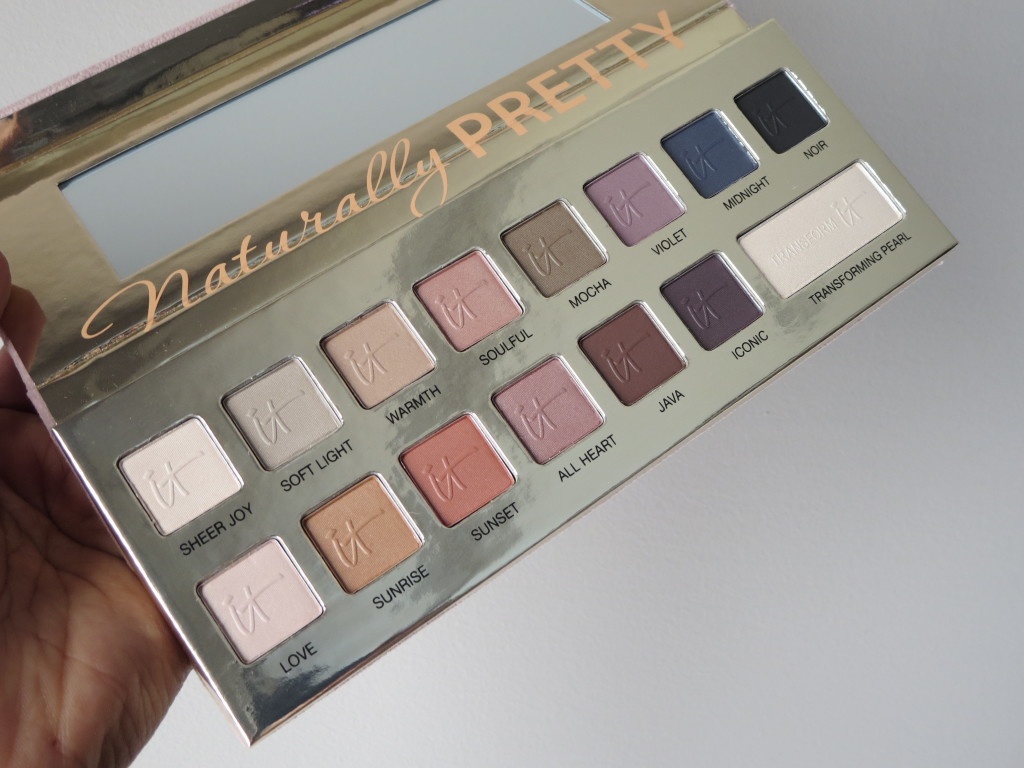 Aside from the matte shadows in the palette there is a larger transforming pearl shade that can turn any color in the palette into a silky pearl shade. I didn't use this much but it works. This palette is available on QVC with a great shadow brush ($40) or at Ulta ($42) so you have options. Even if you get this from Ulta I suggest going to the QVC website and looking at the presentation on this palette. Currently it's a wait list (Item A238703) order but if you get on this soon I'm sure you'll get one.
From the QVC website:
What is it: Naturally Pretty Vol. 1 Matte Luxe Transforming Eyeshadow Palette contains 14 luxe, antiaging, silk-infused eye shadows that are all matte, but can transform into pearl shades with the tap of a brush, thanks to the Transforming Pearl shade. This beauty must-have includes all the universally flattering shades you need to take you from day to night, no matter what the occasion. Developed with plastic surgeons, these shadows are formulated with lid-loving ingredients, including peptides, collagen, silk, and antioxidants! 
Who is it for: Anyone who wants naturally pretty, long-wear, antiaging eye shadows that are flattering and truly beautiful. Anyone who wants an all-inclusive palette to achieve any and all looks, whether matte or pearl, with shadows or liners. Anyone who wants a naturally pretty look using skin-loving ingredients. Anyone who wants airbrushed eye shadow application without tugging on the delicate eyelid area.
Why is it different: These shadows instantly diffuse the look of lines and wrinkles on eyes and lids. Lush matte pigment glides over lids to create the perfect eye look. Because these shades are antiaging, they contain ultra-hydrating ingredients, including hydrolyzed collagen, acai, green tea, and vitamins A, C, and E. These colors contain everything you would want in a shadow and none of the ingredients you don't! Specially designed, the No-Tug Heavenly Luxe Dual Shadow Brush means no tugging or pulling on delicate eyelid skin.
How do I use it: Using the No-Tug Heavenly Luxe Dual Shadow Brush, apply your choice of eye shadows. They can be worn wet or dry, as shadows or liners. Colors can be worn alone or mixed together. To transform any matte shade into a shimmery pearl shade, dip your brush into the matte shade, tap your brush into Transforming Pearl shadow, and apply. Use the large, fluffy brush side for allover lid and crease application. Use the smudger/no-tug side for naturally lining above or below the lash line.
Includes:
Naturally Pretty Vol. 1 Matte Luxe Transforming Eyeshadow Palette with one 0.064-oz eye shadow in Transforming Pearl, a candlelight pearlescent glow shade; and 14 0.028-oz eye shadows in Sheer Joy, a matte soft peach shade; Soft Light, a matte light latte shade; Warmth, a matte warm beige shade; Soulful, a matte warm rosy-beige shade; Mocha, a matte light sable shade; Violet, a matte lilac shade; Midnight, a matte gray-navy shade; Noir, a matte black shade; Love, a matte dusty soft pink shade; Sunrise, a matte soft amber shade; Sunset, a matte rich amber shade; All Heart, a matte warm mauve shade; Java, a matte chocolate shade; and Iconic, a matte rich slate shade
No-Tug Heavenly Luxe Dual Shadow Brush
Lets see some swatches shall we? I didn't use any eye primer for these.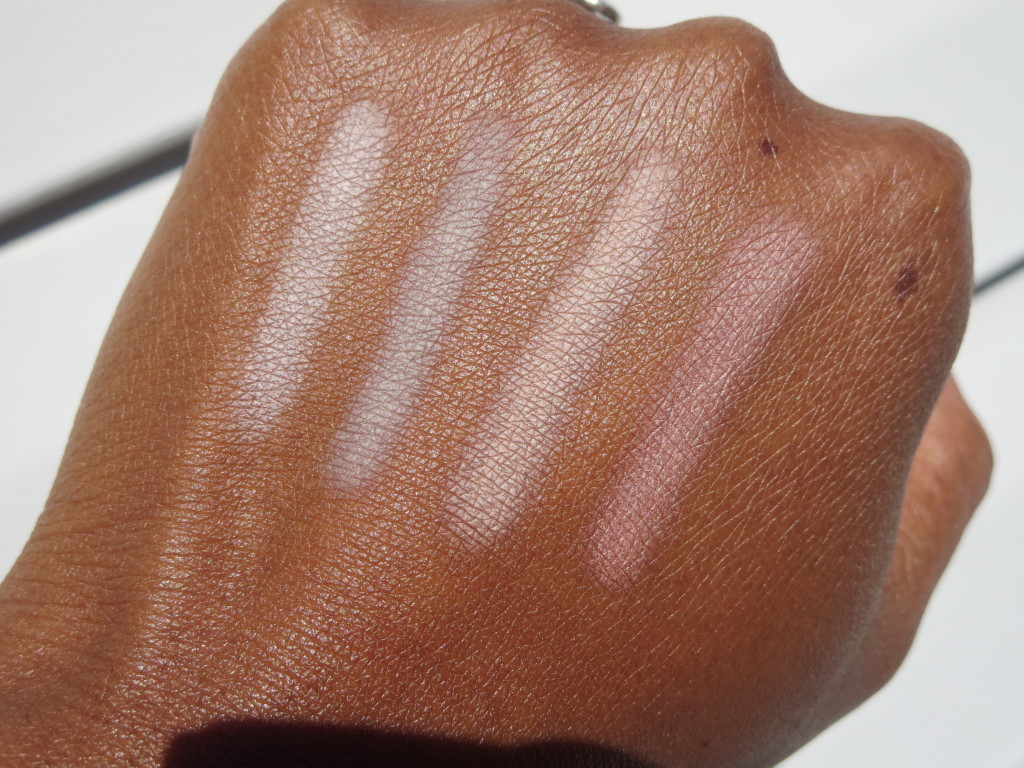 Sheer Joy, Soft Light, Warmth, and Soulful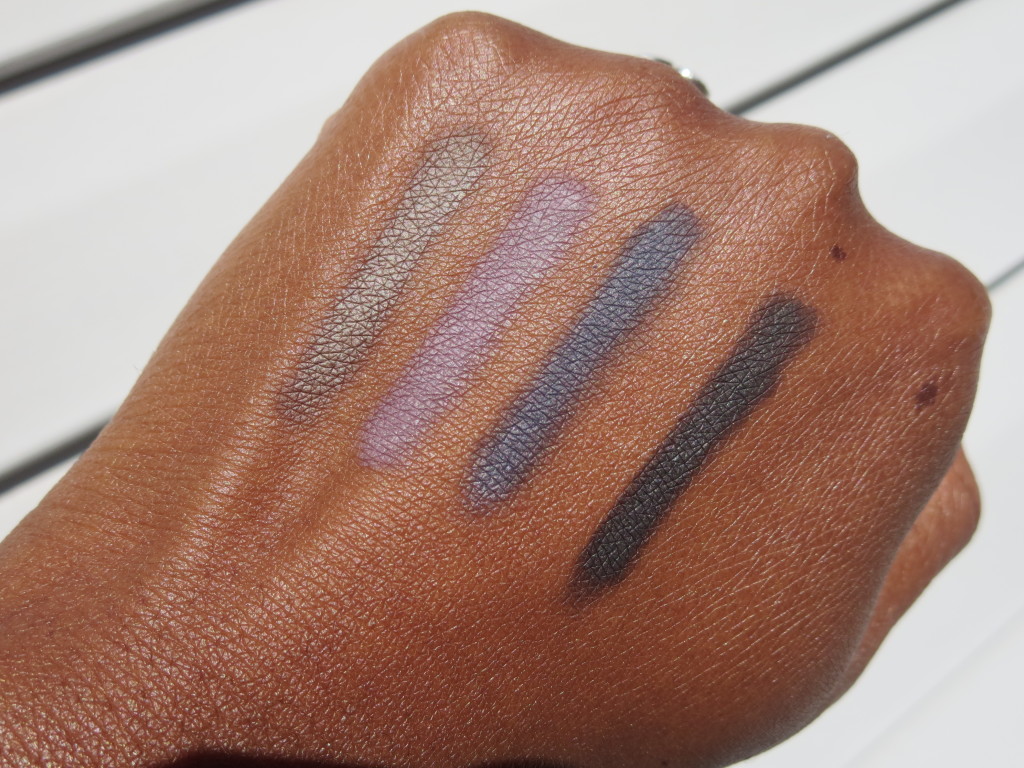 Mocha, Violet, Midnight, and Noir
Love, Sunrise, Sunset, and All Heart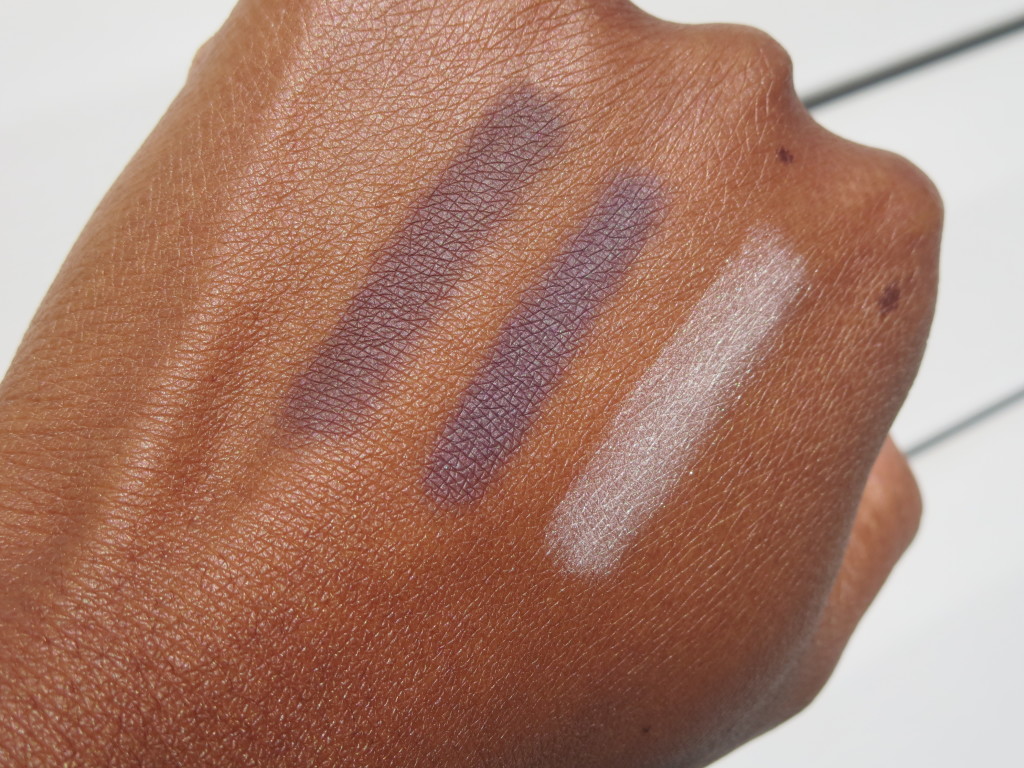 Java, Iconic, and Transforming Pearl
Did I mention that that I love the deeper shades? They are amazing. But one of the things that I like is that the matte shadows in here are perfect for highlighting and you have a few options depending on the look you are going for. I never do a shimmer highlight so I'm in heaven with this. My favorite shades are Sunset, Java, Soulful, Midnight, and Iconic.
Get on this one if you love mattes. I give this palette an A++++!