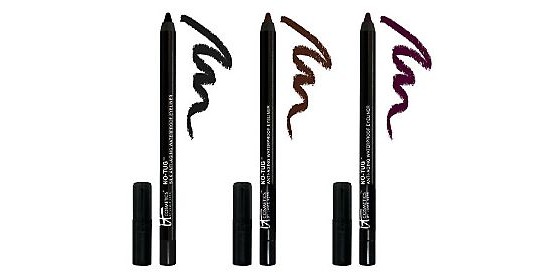 I hate hard eyeliner. I think tugging on your eye besides being annoying is really bad for the whole eye area. As much as I love trying out products I have become really careful with my eyes. I slather on eye cream and stay away from products that don't glide on easily. The liners from It Cosmetics go on smoothly and the colors are really PRETTY.
Looky here!
Navy (deep matte blue) and Golden Bronze (satin copper)
I loved playing with these. I love blue eyeliner. It makes my eyes look brighter. I love putting blue in my lower waterline (this is a waterproof formula) and this Navy color stays put and its matte! Perfect. On my lid I've used the Golden Bronze as a base color for a few eye looks with my UD Naked Palette. When you use the liner all over the lid you have a little over a minute to smudge or blend out the color before it sets.
It's also of note that you can remove the liners easily with a good makeup remover. I hate waterproof products that make you pull on your eye while taking them off. That's just as bad as when its hard to apply the product to begin with!
There are a bunch of colors available besides Navy and Golden Bronze. Black, Brown, Plum, and Graphite. All of them are matte. Golden Bronze is the only satin out of the bunch. There are a few duos available (Item A228053) on QVC for $24 a pair. The Navy/Graphite set is out of stock but Plum/Bronze and Black/Brown are still available. Look for these!
*press samples