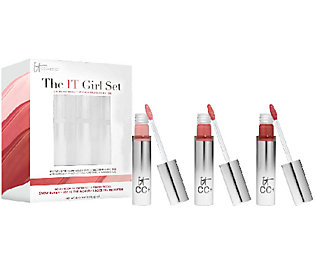 Is there any doubt that I love holiday sets? Well I do so here's another one! It Cosmetics makes amazing products and its no surprise with all the research that they do that they make good lip gloss. Well lets call it lip gloss with a purpose. It's not your average gloss after all. It does stuff!
On the package it says this is a hydrating anti-aging color-correcting creme gloss. All that means to me after wearing these shades is that the lip gloss feels great and moisturizes the hell out of my dry lips. My lips stay moist even after wearing this so thats saying something. I did run into a problem with one of the three shades. The lightest shade Snow Bunny looks white against my pigmented lips. I chickened out of putting up a pic of me with it on. It looks like I ate a super white glazed donut. I don't want that image living on in cyberspace sorry! I think that I can use it along with a deeper shade of gloss that I want to lighten up.
From QVC.com:
What is it: The CC+ Lip Serum Special Edition Holiday Collection includes three Hydrating Anti-Aging Color Correcting Creme Glosses in three shades. It's your antiaging lip serum, hydrating lip conditioner, and sheer color in one creme gloss. These glosses combine a super-hydrating lip serum with radiant color, treating your lips from the moment you apply. This special-edition boxed collection of naturally pretty colors makes the perfect holiday gift for every woman in your life–or as a gift for yourself–you deserve it!
Who is it for: Anyone who wants to treat her lips every time she applies her lip gloss. Anyone who wants to revive the look of gorgeous, naturally flushed lip tone. Anyone who wants hydration and the appearance of younger-looking lips. Anyone looking for the perfect gift to give this holiday season for every woman on your list!
Why is it different: CC+ Lip Serum Hydrating Anti-Aging Color Correcting Creme Glosses are infused with collagen, hyaluronic acid, peptides, plum oil, cherry oil, shea butter, avocado oil, argan oil, and jojoba. Color-correcting pigments help to even out and revive the look of your lip color, plus the lip serum drenches your lips with hydration for naturally pretty, vitality-filled, kissable lips!
How do I use it: Glide CC+ Lip Serum over your lips for instant hydration, the look of color correction, and gorgeous your-lips-but-better color. It can be worn day or night for an ultra-hydrating treatment and a naturally pretty flush of color that lasts.
Includes:
0.11-oz CC+ Lip Serum Hydrating Anti-Aging Color Correcting Creme Gloss in Snowbunny, a pale sheer pink shade

0.11-oz CC+ Lip Serum Hydrating Anti-Aging Color Correcting Creme Gloss in Joy to the World, a rich red berry shade

0.11-oz CC+ Lip Serum Hydrating Anti-Aging Color Correcting Creme Gloss in Under the Mistletoe, a sheer red flush shade
The other two shades Joy To The World and Under The Mistletoe are fantastic on my lips though. I especially love Joy To The World. Take a look at some quick lip swatches!
Joy To The World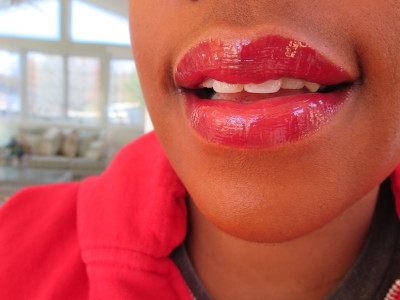 Under The Mistletoe
Really pretty! This set is available on the QVC website and I've seen it at Ulta. Check it out for $39.50 if you want to give your lips something special for the holidays!