A while ago I got a sample spray of Jo Malone's newest fragrance Blackberry & Bay at Neiman's. On my way home from the store I sniffed myself (get your mind out of the gutter..) the whole way. I love fruity and flowery scents. That's mostly what I have in my fragrance stash but this is a special one. It's not syrupy sweet or a flower bomb that hits you in the face.
It's just a pleasant and overall fresh smelling scent.
Check out the brief description from the Jo Malone website:
Childhood memories of blackberry picking…stained lips, sticky palms. A burst of deep, tart blackberry juice, blending with the freshness of just-gathered bay and brambly woods. A vibrant and verdant fragrance.
I'm no expert fragrance reviewer but I know what I like. I do smell the grapefruit and berries in this one but I'm not sure where that fresh-just showered scent (do experts call them "notes?") is coming from. I wish I knew. It's almost like the scent of the woods. Or what a crisp clear Fall morning smells like. I think a lot of people are going to be drawn to this aspect of Blackberry & Bay because this isn't an overly girly frilly scent. Don't get me wrong I do love those fragrances also but this is a great subtly feminine one that can appeal to the fruity flowery set and the fresh/clean woodsy perfume buyers out there. Quite a huge accomplishment in my opinion.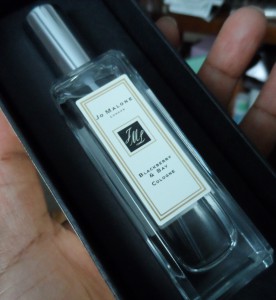 Blackberry & Bay (30ml-$60)
There are two sizes available. I opted for the smaller 30ml bottle. The large 100ml bottle retails for $110. After all I am still loving my most recent Jo Malone purchases White Lilac & Rhubarb, Plum Blossom, and Wild Bluebell. You can get up close and personal with this new Jo Malone scent at Neiman Marcus. I purchased mine from there and they are going FAST. Nordstrom has this also. If you can't find this near you jomalone.com can also send this to you if you order it. I do recommend giving it a whiff first before you invest your hard earned $$$. Fragrance is a personal thing. I got a whiff of Drakkar Noir the other day and I wanted to punch the innocent guy that was wearing it.