I love Jo Malone scents. I have a few of them as you can see above so when a new one came out that I thought I'd like I was easily seduced into it! The fact that the ad campaign includes bunnies didn't hurt either:)
Seriously I went to the counter to give it a whiff and loved it. Here is the description from the Jo Malone & Fragrantica websites:
An imaginative scent, drenched in the delicate sweetness of sapphire blooms. And wild, because it's a pretty quirky take, inspired by a wickedly whimsical, contemporary fairytale starring Wild Bluebell herself. With persimmon, lily of the valley and eglantine, its lush transparency is decidedly naughty…but nice.
Top notes: bluebell and cloves
Heart: lily of the valley, jasmine, rose hip
Base: white amber and musk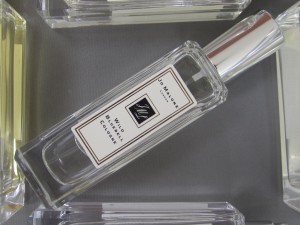 It's a lovely scent but it doesn't last at all on me. It fades like a demon! I've been using it since I got it and there isn't any lasting power! I'm so disappointed because I really like the way it smells. I'm glad I got the 30ml ($55) instead of the big one. Oh well out of the beautiful scents that I have so far from Jo Malone one miss isn't all that big a deal. I have my eye on an amazing mix of vanilla and rose that's limited edition from them. It smells so good, I never would have thought those two scents would mix together so beautifully. Hopefully I can pick that up before it disappears!
Do you have any Jo Malone fragrances that you love? Let me know I'd love to check them out on my next visit to the counter!
Rated C-
Disclosure: I purchased this item myself!