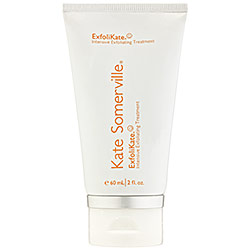 $85 2 oz. at Sephora (OMG!!!)
Have you heard the hype on this stuff? I have. I have watched the QVC presentation pitch and seen this product in magazines and reviewed everywhere. Can it be that good? I wonder…..
So basically Kate Somerville is a skin god with a very exclusive clinic and client base. This exfoliation treatment is supposed to be the next best thing to seeing Kate Somerville in the clinic. Let alone cheaper! It's supposed to help with discoloration and give you an amazing glow. After one treatment your skin is supposed to look amazing. Fruit enzymes are used to exfoliate your skin and as long as you don't have sensitive skin you should be pleased with this. I was really fascinated by the QVC presentation. The models faces did glow let me tell you! Their faces looked fresh, glowing, and smooth as well you know…a baby's backside!
Sephora has a $19 .5 oz. size for wimps like me. I might have to try this out. I am enraged that its $19, that's EXPENSIVE! Wow!
Have you tried Exfolikate or another amazing facial treatment on you skin?