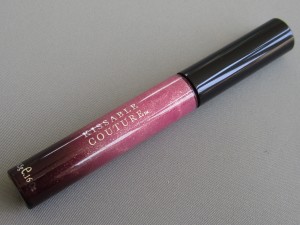 I'm in love with lip gloss in general and I picked a beautiful one up recently. It's called Johnny from Kissable Couture.
I tried to take plenty of pictures so you can see the golden flecks of glitter in this lip gloss formula. It's shimmery, sparkly and so moisturizing. This is my first Kissable Couture gloss but it won't be my last. I can't put my finger on the smell, its vanilla maybe? It's not overpowering at all which is good. The gloss doesn't have any flavor/taste and it isn't too sticky. This gets a huge thumbs up. If you'd like to take a look at the colors available Kissable Couture has a website, check it out here. They have a gloss called First Lady, inspired by Michelle Obama. It looks like the perfect nude. I'm going to try that one next. It's so hard for me to find a good nude gloss.
They had a special 2 for 1 price at the Makeup Show in Chicago. The gloss is regularly $22 (.16oz.) a tube. I'm glad I love it!
Rated A
Disclosure: I purchased this item myself!