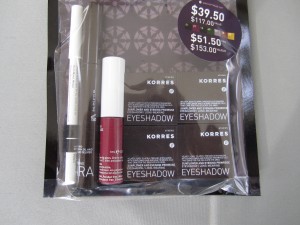 I'm not familiar with Korres makeup. I do have one of their yummy lip butters that I use frequently. I saw this set of 7 products on Hautelook recently and figured getting this would be a great way to get more familiar with Korres. All Korres products seem to be packed with vitamins and good stuff in general.
This set was $23.99 on Hautelook. This set is still available at www.korresusa.com for $39.50.
Cherry Oil Lipglass in Plum 27
Provitamin B5 & Rice Bran Mascara in Black
Eyeliner Pencil in Black 1S
Eyeshadows (full size): Golden 25, Metallic Grey 55, Cypress Green 49, Golden 25
Rated A
Disclosure: I purchased this item myself!