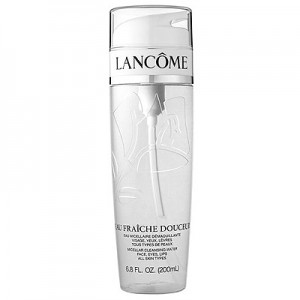 At $35 for 6.8 oz. this had better be good right? Well it is! I found out about this on one of my favorite blogs The Beauty Look Book last summer. I was looking around for something to gently remove my makeup. I have tried several different things. Every brand of makeup wipe has been my friend over the years and I wanted to try something new and less stressful to my skin. Removing my makeup is one of my least favorite things to do. I am lazy and always looking for a quick way out!
After taking a look at the review for Lancome's Eau Fraiche Douceur Cleansing Water I was game. I had some serious sticker shock but I saw the review/post in July and by October I was ready. I loaded up on cotton balls and on an extra heavy eye makeup day I went at it. Oddly enough the results were good (I like to start off with a tough challenge instead of build up to one) even with the waterproof stuff. But even more than that I felt that the whole process was refreshing. The cool "water" on my skin used for removal was really relaxing and nice. My skin felt great afterward. Not tight which I feared. I hate that tight drawn up feeling my skin gets like its going to crack or burst open after products like this. Sometimes they are too harsh and make your skin feel unnatural and worse than when you started. I have an oily t-zone but still some products have something in them that makes my skin tighten up like a drum. This doesn't do that after use or cause breakouts in my oily skin areas. It does take away dead slightly flaky skin like a good toner. My forehead has never looked this smooth and free of dead skin!
In fact I think its ideal for my combination skin. My skin isn't that prone to breaking out but I am always on the lookout and can usually identify the culprit. So in the months that I've had it Eau Fraiche Douceur has become a staple in my routine and something I actually look forward to using. Lancome lovers give this a try. I may not be able to find a mascara I like from Lancome but I would love to try more skin care.
Rated B+ this is a wallet buster unfortunately:(