I've been pulling out recently reviewed lip products this week that I haven't posted on. I reviewed my Lip Lover shade Bouguet Final in a Chopping Block video on YouTube but I wanted to tell you more. At $23 I wasn't sure what to expect from this cute little Lancome gloss. I love my Gloss in Love shade (#391 Flash N' Fuchsia) and constantly use it so I was hoping to feel the same way about this gloss. I didn't. It's a good gloss just not something that I think is worth going out of your way to get. I think there are a lot of drugstore glosses that perform way better for much less money.
There are a ton of shades in the Lip Lover line but I wanted a berry shade so I got Bouguet Final. It's a really pretty berry shade alright! I love the way it looks.
So like I said earlier this gloss is really nice but not anything new to the market or worth shelling out $23 in my opinion. It's a very moisturizing formula that feels great for hours. It's not a super sticky formula either. Touching up is a breeze and there is a very slight smell and no taste which is nice. I feel like this is a nice gloss but not a great one. It has a thick consistency almost like vaseline.
From sephora.com:
What it is: 
An intense lip color that hydrates and gives lips dewy, non-sticky shine. 
What it does: 
Alluring lip color meets the moisturizing effects of a balm in Lancôme's Lip Lover's three-in-one formula. The moisturizing base provides up to eight hours of hydration, a smoothing layer supports the reduction of fine lines, and the saturated pigments leave lips with intense color.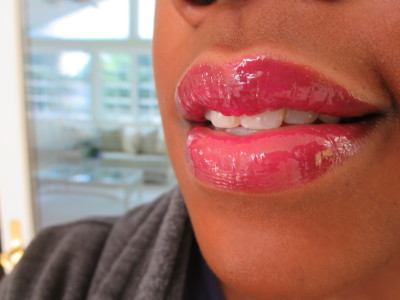 The applicator is a nice flat doe foot.
So check this line of glosses out at the Lancome counter if you are in the market for something like this. I think there are several other drugstore glosses you could load up on for $23 but if you want to splurge then check these out at the Lancome counter or at Sephora.