Laura Mercier Gilded Veil ($24) and Laque Rouge ($22)
I have a gloss addiction. This can't be new information to you. When I saw these two beautiful shades from the recently released Art Deco Muse Collection from Laura Mercier I knew I would have to investigate. I got a beautiful makeover and one of the things that I told the artist (I don't say that lightly-she made me look GOOD) was that I was really into the new limited edition glosses. I didn't realize that they were different. One is a Lip Lacquer and the other is a Lip Glace. Both of them are good. You'll see very soon in the pictures below.
I expected her to go for the red gloss on me in the makeover. Laque Rouge is a creamy glossy Lip Lacquer that screams look at me. It has the glossy finish of a lip gloss but the staying power and opaque pigmentation of a lipstick. I love it. It's perfect for the holidays!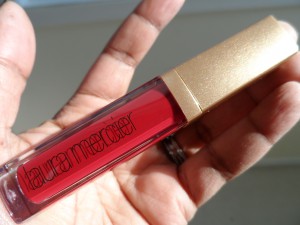 Laque Rouge Lip Lacquer
But instead she went for the GOLD. She told me that Gilded Veil surprises everyone and that its not your average gold. Gilded Veil Lip Glace has a smooth formula and is a more traditional gloss that smells yummy. This is like many of the other glosses in my collection but like the artist said it's not your average gold. It's soooo much better. This is every day dazzle gold. And it's selling quickly. I got one of the last few at the counter!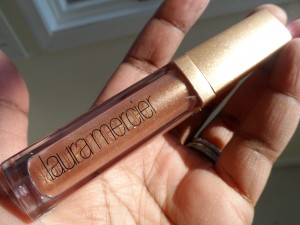 Gilded Veil Lip Glace
I picked these two shades up at Nordstrom. Check for them at your favorite Laura Mercier department store counter or order online.