This is an interesting gloss to me because it is one of the thinnest formulas I've ever come across. The doe foot applicator included spreads it across my lips perfectly but it feels like I have nothing on. It's weightless! And then I feel a little tingle. It's a plumper too folks! And I don't need it, but I do notice a little bit of plumping and I like it! Who doesn't like a juicy lip?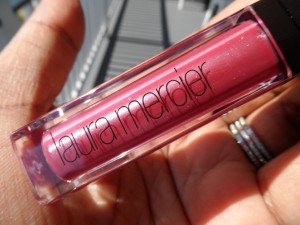 Wildberry Lip Plumper (.18 oz's/$30)
I love the color, its a light pink violet. This lasts well during the day but I find that I need to touch it up every few hours. I think that people who don't like lip gloss would be happy with this. I can't tell you how moisturizing yet weightless it is. I don't usually go out of my way to find lip plumpers but this is a favorite. It's not too intense.
I picked Wildberry up at Nordstrom but I think the best place to get it online is at the Laura Mercier website. There are nine different Lip Plumper shades available. Wildberry is the only one that I have. I do have some other lip shades from the brand to show you in the future. I like this color best though!