Laura Mercier Petite Baked Eye Colour Bonbons Emerald Trio, $25 at Nordstrom
I think Laura Mercier holiday stuff is my high end weakness every year. I just love the things that come out everything from the lip gloss to the body products. It's all good and ends up in my basket magically:) Last year I picked up glosses and body lotion so I knew this year I'd be getting something good.
I picked up two of the baked eyeshadow Bonbon sets this year and here are some swatches of the first one. It's green and just about amazing! I swatched the shadows wet because frankly using them dry drives me nuts. Too much fallout. I love using eye primer and then these pretty baked shadows with a little Mac Fix+ on my eyeshadow brush. These colors stay put all day and look so darn pretty.
Aqua, Malachite, and Emerald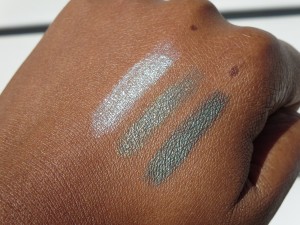 Now I'm not crazy about Aqua but it does look beautiful when it's mixed in with the other shades and when used as a highlight. Malachite is just amazing! I have another Laura Mercier holiday trio to show you soon. I found this and other Laura Mercier holiday goodies at Nordstrom so make sure to check there for this beautiful holiday set. I'm so glad I picked this up!