I love this lipgloss. I can't get over how pretty the color is and how different it is from anything that I currently own. This is my second LMDB lipgloss and I feel like I've just scratched the surface on what they have. The colors are amazing.
I reviewed Dubai another favorite recently and if you love pink you should check that out here. Anyway La Belle is a shade that was suggested to me by the lovely Lisa at my local Neiman's. I told her I wanted my next lip gloss after Dubai to be darker but good for everyday and when she pulled out the tester of La Belle I was sceptical. I thought it was too dark and she knew what I was thinking and said you have to see this on your lips it will look great. She was sooo right. I couldn't believe it. LMDB glosses have a great doe foot applicator. It's just the right size and I like how it's not messy and you get just the right amount to apply after every dip into the tube.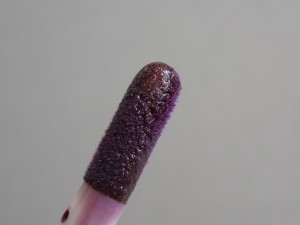 Besides the uniqueness of the color La Belle you also get one of the best formulas I've ever come across and you know I've come across a lot! The gloss is light not sticky and the shimmer isn't annoying. I sometimes love lip gloss but hate the way the glitter (which I am addicted to) feels on my lips. There isn't a trade-off here which is great. You don't have to sacrifice comfort for beauty with this. Touching up isn't necessary for many hours and there is no awkward scent or taste with La Belle. The gloss fades beautifully on your lips and you will get compliments because this color is just so pretty and appealing to lovers of neutral lips with a little deeper tint. These retail for $32 each, check Nordstrom and Neiman's for this!
Rated A
Disclosure: I purchased this item myself!