Here is the second gloss in LMDB's Resort Collection! Besides loving the name I think that this pretty shade is going to be in heavy rotation when the warm weather hits the East Coast. This is perfect for a summer day.
The shimmer on this one is killing me! I LOVE IT! Don't be scared though if you are looking at this gloss and thinking that your not sure that you can pull it off. It's actually nice and glowy rather than garish on the lips, trust me!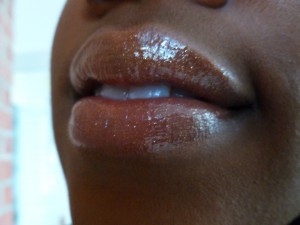 The light was slowly slipping away on me but I tilted my head so you can see that this gloss is not neon orange or anything. Especially on pigmented lips like mine. Its a nice sparkly almost gold look. But the orange is a nice base for all that sparkle! I will say that I do feel some gritty flecks in this gloss which is unusual for LMDB glosses. It's not uncomfortable but it is there.