Pro Cream Eyeliner in Black and Plum (right) $19/.08 oz's each
I'm crazy about eyeliner. I don't really feel "done" without eyeliner and mascara. But its really hard to get me to come outside of my comfort zone and use anything other than a pencil or liquid liner. I am so glad that I came out of my safe zone for this! It's another great Pro product from Lorac that will go well with my Pro Eyeshadow Palette (review/swatches here) and Pro Powder Cheek Stains (review/swatches here) want to see? I got two shades Black and Plum.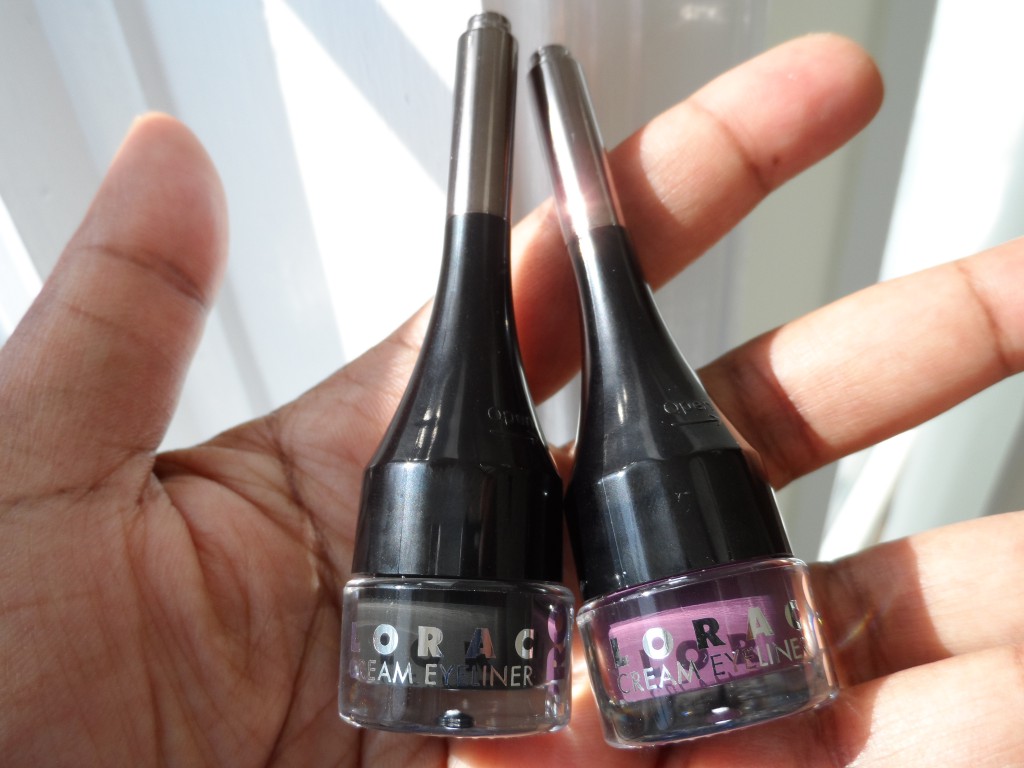 Black and Plum
The thing I love most about these two liners is the rich color and flawless application that you can achieve with the brush. I can't tell you how much I love the fact that the brush is in the top of the bottle. As a person that can't decide which brush to use I love that the perfect applicator is right there for me. I've been using these two colors for weeks and I haven't lost the liner top yet. This is perfect for use each day and when you travel.
Would you believe that I've never had a purple eyeliner before? This Plum eye color is gorgeous and since I have a crazy obsession with purple eyeshadow it was about time I got a good purple liner right? It's just beautiful. It's a nice deep almost eggplant color that looks beautiful with my brown eyes.
Both of these colors last all day and I love the finish. It's not like shiny patent leather (which I HATE) and it's not super matte either. There are four shades available and I'd love to pick up the Navy next because I love dark blue liners. They make the white part of my eyes look whiter so I look more awake. If you love Dark Brown that is available also!
Check these out at Ulta and Sephora online. You can also order directly from the Lorac website (www.loraccosmetics.com) if you don't have a place near you with Lorac products. Remember to check out the Pro Eyeshadow Palette I mentioned above if you haven't already while you are shopping. It's my favorite palette that has come out this year so far. I use it a few times a week!
*press samples