L'oreal Colour Riche Lipcolour Raspberry Rush, $8.95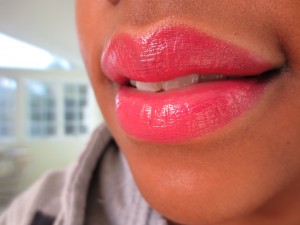 I really like this new lipstick shade from L'oreal. I saw this in a display and I had to have it! I think this might be part of the permanent line because the bottom of the tube says NEW-not limited edition or anything which is good. It's on the L'oreal website with all the other Colour Riche shades so I think this color is here to stay.
Picking this up on site is not typical for me with L'oreal lipsticks. I find that the smell of the product gets in my way. I really can get over smells easily usually but the one in this line of lipsticks always stops me from purchasing. I can't even describe the smell it's like baby powder…or just loaded perfume wise in a bad way. It drives me nuts. I can't even describe it accurately for you but I can tell you it drives me up a wall.
That being said I love this color! Its a fresh bright cherry/almost coral shade and it really pops on the lips beautifully. I can see this working on a variety of skin tones. On a fair skin tone this would be amazing and on a deeper skin tone its just as bright and eye catching. I think this is great to wear alone because the formula is comfortable and stays put without being drying. It's also just shiny enough to keep me happy and not even think about topping it with a gloss. Touching up is fun and you can just slather it on (which I do!) without looking in a mirror. I end up needing to refresh this after about five hours or after meals. And the scent goes away quickly thank goodness!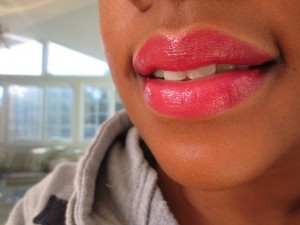 Please check this out at the store! Sniff it first:) Let me know how you feel about L'oreal lipsticks in general. I totally get it if you think I'm being a baby about the smell. I don't know why it sets me off like it does! It shouldn't be that big a deal!