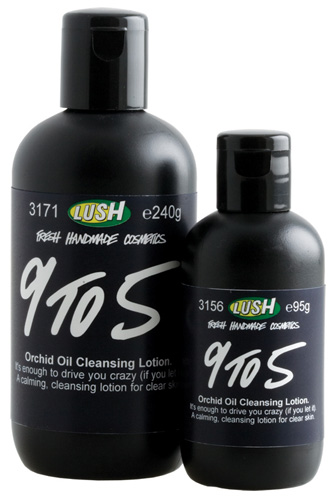 I am in love with this stuff. I just used the last bit of it left in my bottle this morning so I'm officially in a funk. Just kidding, well sort of.
This was a great product for my confused combination skin this winter. Winter is my favorite time of year skin wise. My t-zone area is not too oily and my cheeks are dry and in need of extra moistuizer. That's why 9 To 5 was perfect for me. At night after I used my beloved Dove Makeup Remover Wipes it was just the right gentle follow-up product. It's a nice light creamy cleanser that my skin just soaks up. Once it's wiped off your skin just looks perfectly moist and supple. Really nice. This is great for sensitive skin also. Some of the ingredients are almond oil, dove orchids, and ylang ylang.
This really reminds me of Cetaphil's Gentle Cleanser. It looks the same if you asked me. Like I said earlier I usually always take off my makeup with wipes before cleansing but this product actually did a pretty good job of removing my makeup all on its own on lazy nights. I routinely just smoothed about a quarter sized dollop all over my face and then took a wet washcloth to my face and everything wiped off easily. What I liked most was the nicely moisturized skin left behind. No tightness or dryness whatsoever.
As usual LUSH is charging highway robbery prices to take this little bottle of perfection home. The smaller bottle (3.4 oz.) is $8.95 and the larger bottle about $18. I'll be saving up for a new bottle for this coming Fall, darn you LUSH.
Rated A
Disclosure: I purchased this product myself!