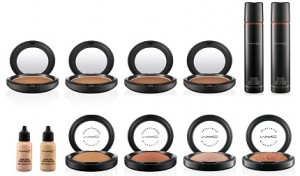 This collection comes out on April 7th. This is going to be one of the rare collections that I go to my local Mac Cosmetics counter to see. I need to see these colors up close and get my swatch on. So far I think I'm only interested in the Mineralize Skin Finish in Gold Deposit. I only have a few MSF's but I am always on the lookout for a good addition to my small stash of them.
Sun Rush and Pink Rebel Lustre Drops (19.50)
There are two Lustre Drop colors in this collection, Sun Rush and Pink Rebel. I have Bronze Hero Lustre Drops from a while ago. Lustre Drops are very interesting and have several uses. I use them on their own as a highlight. I know a lot of people mix their foundation with a few lustre drops to add an all over glow.
Will you be getting anything from this collection?