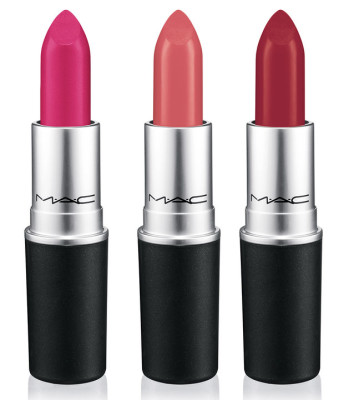 I picked up two lipstick/gloss duo's from this years Mac By Request collection. I was beyond excited about picking my two pairs up. The first one I'll show you is Glam. It's a bright matte vivid pink-red. It sounded like my kinda thing and boy is it ever! Glam lipstick is a matte shade. It's a comfy matte though. It isn't drying at all on my lips. I wore it without any lip balm with no problem.
Beautiful isn't it? I love it! But it gets better with the gloss I think. Gloss makes the world go around doesn't it?
I'm drying my hair as you might be able to see in the reflection of my pics. I had a big old towel on my head! But isn't Glam beautiful? The great thing about the lipstick being matte is that when it's worn alone it stays put. When you add the gloss to the mix you add a lot of dazzle but I found that the color does last well throughout the day and it fades nicely. I love wearing a lipstick with a matching gloss. I just love the end result.
Check this color out if you like pinky reds. The limited edition By Request collection is online only I think so check the colors out before they are gone! I got Pink Poodle also-I'll show you that one soon!