I think I told you guys how much I love Specktra.net. I love hanging out there and seeing swatches and pics of collections from my favorite brands before they come out. I am so excited about next months Heavenly Creature Collection and since I heard from a bunch of you about it when I posted some early pictures (check that post out here) I thought I'd get the list of products to you.
This is a large collection and I always like to plan (beauty military mission) ahead of time so in case you do too here is the list copied from Specktra.net and posted by LMD84 with color descriptions.
Update: Pics of everything on this amazing blog! I am DYING….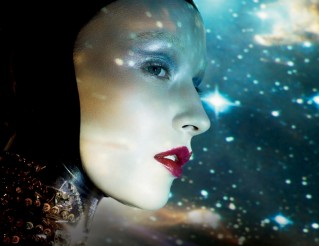 MAC HEAVENLY CREATURE (Colour)
(North America – July 5, 2012/ International – July 2012)
Lipstick $14.50(USD)/ $17.50(CAD)
Pleasureseeker – Creamy peach (Glaze) (repromote)
Cut a Caper – Mid-tone peachy pink (Lustre) (repromote)
Venus – Sheer yellow pink with pearlized pigments (Lustre)
Fire Sign – Red-pink (Lustre)
Cusp of Dawn – Beige pink (Lustre)
Cremesheen Glass $19(USD)/ $22.50(CAD)
Celestial Kiss – Pale cool peach
Strictly Plutonic – Mid-tone pink brown
Meteoric – Mid-tone vibrant coral
Astral – Bright yellow pink
Galaxy Rose – Mid-tone violet pink
Mineralize Skinfinish $29(USD)/ $34(CAD)
Earthshine – Tarnished bronze with gold pearlized pigments and pink reflects
Light Year – Peachy pink with gold shimmer
Star Wonder – Plumy pink with multi-dimensional pearlized pigments
Center of the Universe – Coral with gold shimmer
Mineralize Blush $23(USD)/ $27(CAD)
Solar Ray – Peach and gold melange
Ring of Saturn – Terracotta and gold melange
Stratus – Amethyst and golden brown melange
Supernova – Magenta and burnt gold melange
187 Brush $42(USD)/ $50.50(CAD) – Duo fibre face brush
188 Brush $34(USD)/ $41(CAD) – Small duo fibre face brush
HEAVENLY CREATURE (Eyes)
Mineralize Eye Shadow $20(USD)/ $24(CAD) – all frost finish
Aurora – Peach, green, and brown melange
Magnetic Attraction – Orange, pink and gold melange
Neo Nebula – Cream, warm amethyst and warm pink melange
Universal Appeal – Gold, bronze and violet melange
Invincible Light – Icy white, lavender and warm gold melange
Earthly – Beige, peach and cool brown melange
Water – Yellow, lime green and blue melange
Bright Moon – Grey, silver and icy green melange
Sky – Green gold, turquoise and cobalt melange
286 Brush $30(USD)/ $22.50(CAD) – Duo fibre tapered blending brush (repromote)
HEAVENLY CREATURE (Skin)
Mineralize Volcanic Ash Exfoliator $28(USD)/ $33.50(CAD)
-foaming, exfoliating scrub made with natural volcanic ash and sugar crystals (repromote)
Mineralize Charged Water Cleanser $23(USD)/ $27.50(CAD)
-a make up removing "water" that can literally wipe off most types of makeup without scrubbing or massaging. Formulated with M.A.C's exclusive Charged Water technology (repromote)
Mineralize Charged Water Moisture Gel $37(USD/ $44.50(CAD)
-An ultra light gel cream that gives intensive hydration and moisture but leaves the skin feeling soft and supple. Infused with M.A.C's exclusive Charged Water technology (repromote)
Mineralize Charged Water Moisture Eye Cream $35(USD)/ $42(CAD)
-A luxuriousand rich eye cream that improves and moisturizes the skin around the eye while reducing the look of dark circles and puffiness. Infused with M.A.C's exclusive Charged Water technology (repromote)