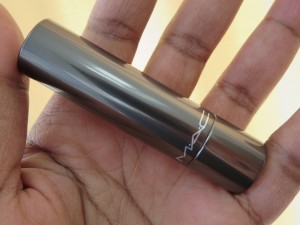 Mac Huggable Lipcolour-Commotion, $20
There is a new type of Mac lipstick on the block and I must say I like them! Huggable Lipcolours recently were released in twelve pretty shades and I picked up two. The first one I just had to slap on and test out was Commotion. It's a pretty plum berry shade. It's right up my alley and quite moisturizing. I don't agree with the six hours of wear claims but I enjoy this color a lot. It's got the right level of pigmentation and moisture as I mentioned before but I do touch up after three or four hours. So six hours of wear…ummm no Mac.
But the thing that I'm most into when it comes to these aside from the great pigmentation and moisture is the SHINE. That's off the chain y'all. I just love a glossy lip and this is super glossy!
There isn't any odd taste or smell which is nice. Check these out at the Mac counter next time you are there. I think they have a color you might fall in love with!