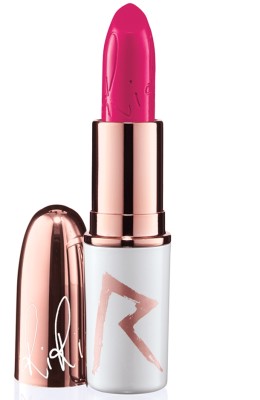 I figured I'd do all my favorite Mac Rihanna lipstick shades in one day:) This beauty came out late in 2013 for the holidays and boy did I get nutso over ordering this one! I wish I had gotten two. Pleasure Bomb is a matte stunner with an almost neon like deep fuchsia pop. There are several good glossy finished dupes for this matte (Mac Girl About Town lipstick and Wet N Wild Cherry Picking #965) lipstick shade so don't worry you can get something just as beautiful!
I love this type of matte finish because it lasts for hours. I love being able to put on a lipstick shade and not have to babysit it. And the way it looks…wowza!
Absolutely hands down one of my favorites. I hope you picked this one up. It needs to be a permanent shade Mac! Pronto!!