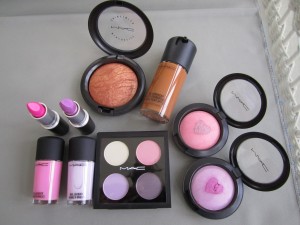 So guess who stopped by Macy's yesterday? Me! I usually order online but this collection wasn't online earlier than the official release day (April 7th) like it usually is.
I got all the stuff I wanted from the new Quite Cute Collection and I picked up a Gold Deposit MSF. It's a part of the other collection released today, Bronze Everyday. This MSF is always available though or permanent I think. I also got another Pro Longwear foundation. I was about to run out. I use it a lot! Here are some pics and swatches.
Gold Deposit Mineralize Skin Finish (swatched on NW45 skin)
Giggly Mineralize Blush
Sakura Mineralize Blush (mine had a dent in it!)
Candy Yum Yum (matte pink) and Play Time (cremesheen) Lipstick
Cutie Eyeshadow Quad
Azuki Bean and Boycrazy (the purple shades)
Goody Goody Gum Drop (pink) and Moshi Moshi!
Little Girl Type (purple) and Ice Cream Cake (pink) Nail Polish
So that's what I picked up! Are you getting anything from this collection? Do tell!