If you haven't tried one before let me be the first to tell you that Kissable Lipcolours are very comfortable to wear. They feel so nice on the lips. It's the perfect marriage between lip gloss and opaque lipstick like color. I got the Kissable Lipcolour Flaunting It a few collections ago. It was my first Kissable Lipcolour and I've used it a lot. It is a really pretty purple that is available again in the Mac Shop, Mac Cook Collection.
When I saw another pretty color available this time around called Scan-Delicious I was even more excited because it's a bright color. I love my bright shades! With such a comfortable formula and a bright shade how could I not love this?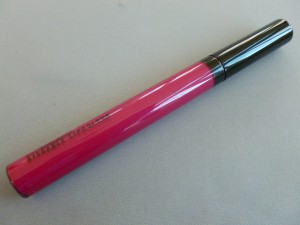 The only bad thing is the doe foot applicator for some reason is a fail for this long skinny lip gloss tube. It usually takes a few dips to get enough gloss out to cover my lips. Oh well I still do love it!