Quite the Thing! Lipstick ($14.50)
Earlier this month Mac Cosmetics came out with a new collection of lipsticks. I have a lot of Mac lipstick and was wary of this "new" formula. Since this new formula was supposed to be moisturizing but not tacky I was willing to try. I am so glad that I did!
This lipstick formula might just be the most moisturizing I've ever gotten from Mac. Unbelievable. I love their lipsticks more so for the colors not the lipstick quality. I almost always top off a Mac lipstick with lip gloss because I don't want to dry out my lips. I even put some type of lip balm on before lipstick application just to boost the moisture content. With this new formula balm and lip gloss aren't necessary! It's not sticky or tacky feeling on the lips and after eating/drinking only a little touch up is necessary.
I love reapplying it just like….are you ready for this…YSL Rouge Volupte!! YSL has the most moisturizing lipstick formula I have ever tried. I am crazy about YSL lipstick. I'm not so crazy about the price though. So this $14.50 alternative is much appreciated.
This color is great. Quite the Thing! is a beautiful bluish plum color. I got a really nice red as well. I'll show you that one soon.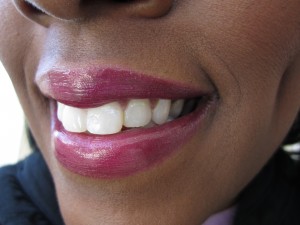 Rated A
Disclosure: I purchased this item myself!