I am not a big fan of nude lipstick. First it was because I couldn't find ones that worked with my skin tone and then it was because I like my lips to be visible across the room or across at least three lanes on the highway. True story.
Seriously I really wish I was a fan but I'm not. I like COLOR. But in the past, here and there I've found some great nudes. They have a special place in my stash. It's been easier for me to find nude gloss. My holy grail is Le Metier De Beaute's Bondi Beach. Lipstick is much harder for me to love. My favorite nude-ish lipstick for the longest has been Maybelline's Broadway Bronze. I love that color and wear it often.
Please excuse my concept of nude when it comes to lip colors. I know that for many of you both of these may not fit the definition of nude but that's how I see them. Maybe they are as "nude" as I get!
When the Mac Fashion Sets collection came out recently I got a bunch of messages about trying out Spice lipstick. I was skeptical/worried/scared. I tried Fresh Brew from Mac and blog sale'd it away. I couldn't find it in my heart to love it like so many people do. When I tried to order Spice a few weeks ago it was out of stock. But last week when I ordered Mac's Ruffian Red I took a look at Spice again and it was back in stock! So I went for it. Here it is.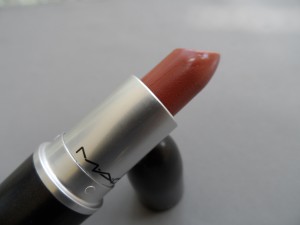 I'm on the fence. I'm not sure if I love it but I know I don't hate it. Make sense? Let me know if you have a nude lipstick suggestion. I would love to hear it. I think I'll keep using this and figure out if I'm just a nude hater!
Mac Spice lipstick is $14.50 a tube.