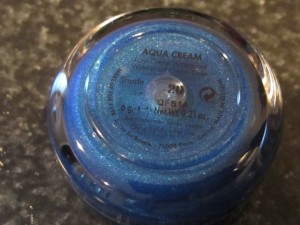 This Make Up For Ever Aqua Cream is my favorite blue eye shade ever. If you've never tried an Aqua Cream let me tell you they are something else. In my experience they are the most long wearing eye products that I've ever used. They are all really pigmented and the shades available are extraordinary. They have a little something for everyone. You can get neutral shades or really shocking eye colors. Intense Blue #20 is my first in the later category.
As I hope you can see from the pictures there is a wonderful pearly shimmer in this blue. It looks really intense doesn't it? The consistency is perfect too. It's creamy and so evenly pigmented ahhhh love this! It spreads on my eyelids really smoothly and blends out just where I want it. I use my fingers to apply Aqua Creams. I find that I can get better control that way. The cream doesn't smudge or crease on me no matter what. I am a really big Mac Paint Pot and Benefit Creaseless Cream Shadow Liner fan (reviewed here) but these give those a run for their money.
These creams are great eye bases or on "lazy" days one of these is all I use. This one in particular I would only use on my eye but some of the shades available would work on your lips and cheeks. Sephora has a huge selection of colors so you can check them out online if you'd like to take a peek.
The retail price for Aqua Creams is $22 for .21 oz of product. A little goes a long way on these so get a color you REALLY like! Then its worth it.
Rated A
Disclosure: I purchased this product myself!