Marc Jacobs Lovemarc Lip Gel Seduce Me, $30 at Sephora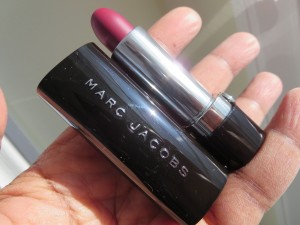 The Marc Jacobs Beauty line at Sephora officially has my attention. It started with Sally a beautiful green polish that I wear regularly because I'm addicted and then there was Boom Boom the best gloss ever. Oh and lets not forget my holy grail Genius Gel Foundation from good old Marc. And now this! Seduce Me is a beautiful lipstick that glides on (it's a gel-oh yeah!) beautifully. I love the way this stuff feels on my lips. It goes on like butter. I can go a good five hrs before applying a little more and I need to touch it up after a greasy meal or balsamic salad dressing just fyi.
This is something to take a look at when you visit Sephora. I have been eyeing the red shade…maybe I'll go for it in 2014!
From the Sephora website:
What it is:
A color-saturated, long-wearing, gellified lipstick with a sleek shine finish.
What it does:
Fall in love with Marc's irresistible, gellified lipstick. Full of pure pigment, this long-wearing lipstick has an irresistibly touchable texture. Unlike traditional waxy lipsticks, Lovemarc's cutting-edge, gellified formula delivers the utmost in creaminess, comfort, and color payoff. An infusion of monoi butter—a velvety cream made from the tropical tiare flower—provides intense hydration, while myrrh extract works to reduce the signs of aging, and an innovative 3-D plumping agent adds gentle volume. The vivid shades are all inspired by Marc's favorite movies.
What else you need to know:
Subtly scented with vanilla, Lovemarc will be your new object of desire.
Sephora is the exclusive beauty retailer for this product.