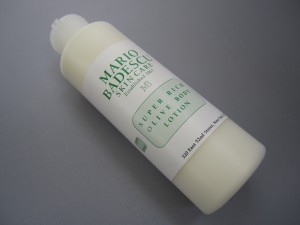 Since it's winter here I can't help but take my lotions seriously. I need all the moisture that I can get and I will try any brand I can get my hands on. This lotion has a nice light scent to it. It isn't overpowering so if you hate heavily scented lotion that is not a problem. It is described as a creamy antioxidant rich lotion so I thought it would be right up my alley….wrong. It's not that creamy but you do need to be rich to buy it!
At $10 for 6 oz. I really left my comfort zone of lower prices and huge bottles. I go through lotion like water so the price is kind of high. My usual go-to products are less expensive brand's like Jergen's or Nivea. I even go nuts for lotion deals at Victoria Secret once in a while. When they have one of those 5 for $25 specials, I am on it!
Seriously it is a nice lotion for someone who doesn't need as much out of a lotion as I do. If I had to compare it to another lotion that I have used it would be Lubriderm. It is slightly thicker but that is what I'd compare it to. My skin needs something more along the lines of a body butter during the winter. I need a much heavier product to keep the dry cracked skin at bay. Maybe during the summer I will pull this out again. But for now this body lotion is on the bench.
Rated C+
Disclosure: I purchased this product myself!