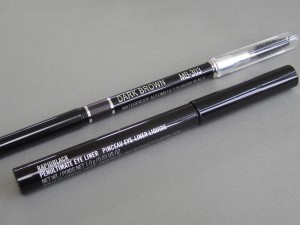 Flori Roberts Dark Brown Waterproof Eyebrow Pencil ($14) is something I've been reaching for every day. I love that I can fill in the bare spots on my eyebrows with this smooth pencil and because it's waterproof what ever I have drawn in won't move. I also love the brush on the other end.
Mac's Penultimate Eye Liner in Rapidblack ($21) is really easy to use. I love how a thin line or a thicker line is possible with this liner.
Miss Adoro #307 lashes ($2.50) are so easy to use, they are a real favorite of mine. I don't have to trim these to fit my eye so I love using them when I am short on time.
Mac's My Dark Magic Mineralize Eye Shadow ($19.50?) was a must for me when the Venomous Villains collection came out in September of 2010. I loooove this shadow, using it wet makes the colors pop just beautifully on the eye.
Mac's Handwritten and Fig. 1 eyeshadows have been my favorites all month. I am a nut for purple and Fig. 1 is just a beautiful deep shade. Handwritten is an amazing crease color that I've been using a lot. I have been using them together with another Mac shadow called All That Glitters for a nice quick look that I just love.
Nar's Cactus Flower (left) and Taos Blush ($27) were two favorites this month. Cactus flower is a cream blush that is described as a shimmering poppy color. It's so pretty and bright on the cheeks! Tao's powder blush is a desert rose shade with a beautiful shimmer to it. It's a great spring color.
Rimmel Moisture Renew Lip Gloss ($6.99) in Purple Rescue is one of my favorite new colors. I love the texture and staying power of this gloss. It's in my purse, I think that says it all!
Maybelline Color Sensational Broadway Bronze ($9) Lipstick is my favorite nude lip look. I can't tell you how many lipsticks I've tried in my search for the perfect nude lip. My search ended with this shade from Maybelline. It's just perfect!
I hope you enjoyed a few of my favorites for the month.
Let me know what products you were mildly obsessed with in May!