Maybelline Colorsensational Lipstick-Untainted Spice #950, $7.49 at Ulta
I have nude lipstick issues.
It's hard for me to find one, like one, and then the idea of me wearing it often comes into play. I have had an especially hard time finding a nude drugstore lipstick. The ones I've liked in the past have all been Mac shades. But now Maybelline is here to save the day. When I heard there would be a nude/buff lipstick collection I wasn't all that excited. I figured the chances of there being a good one for me would be slim. I love the Maybelline Colorsensational lipstick formula but I wasn't sure if they would get the colors right. I'm a Mac NC50 so I need a certain type of nude. I don't want to look dead or like I just ate a powdered donut!
So I picked up three shades to try out. There are ten available in all. Untainted Spice looks great if I do say so myself! Oh and even more good news these are not limited edition!! I get a good amount of wear time out of this. About four hours and there isn't any odd smell or taste. I end up touching up after meals mostly. I think the Colorsensational formula is really moisturizing but I do often top this color off with a gloss.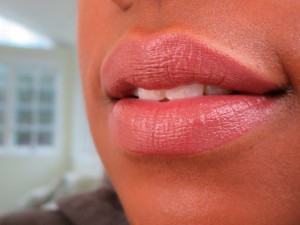 I love this color! It's nude but not dead. So like I said earlier I have been playing around with this lipstick and my favorite drugstore nude glosses. Remember Nude Drugstore Gloss week back in August? I showed you a bunch of great drugstore glosses and several of them look amazing with this lip color. If you'd like to see the Nude Drugstore Glosses that I reviewed on a few months ago click here.
Have you picked any of these buff babies up yet? I'll show you the other two lipstick shades I got soon from the collection. Let us all know if you have or if you are on the lookout for them!