Maybelline Eye Studio Violet Femmes, $7.49 at Bed Bath & Beyond (Limited Edition)
I was so pleasantly surprised at the Maybelline Fall 2013 collection when I saw it at BB&B. I picked up a number of things but a really nice reader that lives near me sent me this beauty. I had so many requests for swatches that I thought I'd show it to you so you are ready to hunt it down or pass on it when you see the displays in store. Hopefully some of you have seen the collection already!
I think because I am a purple person I attract a lot of purple lovers. Well I got several requests from the purple lovers army so I must obey and get some pics up!
Here ya go!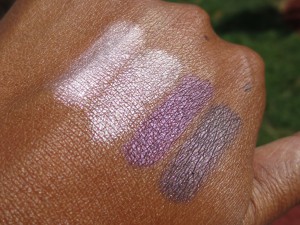 If you like purple at all pick this up. It's vampy goodness! I'm just getting into these quads from Maybelline but so far so good. I really love that you can put these shades on with your fingers!
If you haven't seen the displays yet I go over all the colors in the following VLOG video: