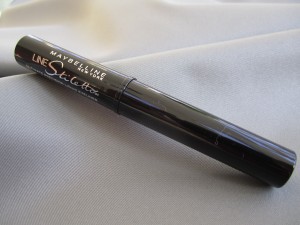 I love liquid eyeliner. I ended up trying this liquid liner because at Target several months ago they had a double pack of Lash Stiletto Mascara and Line Stiletto Eyeliner together for less than $10. I really wanted the mascara but figured I would try the eyeliner too. I didn't expect much. I am really picky about liquid liner and the only one that I really have liked so far is L'oreal's Lineur Intense with the brush tip. It took a while but I got the hang of  the brush and I've gone through several tubes over the last few years.
When I opened up the Line Stiletto I was crushed. I saw the felt tip and figured this was going to be a disaster!
Maybelline Line Stiletto Shade: Blackest Black
Thank goodness I was wrong. I loved it and an added bonus..it's easier to wing out your eyeliner with this felt tip than an eyeliner brush. I used that liner until it dried out and I had to throw it away. I checked Target for that Maybelline two pack deal for a while and it's gone. So yesterday I got a brand new Line Stiletto, it was $8.79 at my local CVS. Not as great as the Target two pack, but I'm happy that I have my favorite eyeliner back!
Rated A
Disclosure: I purchased this item myself!