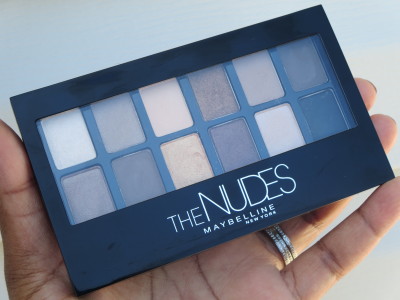 There is a new palette from Maybelline that is coming to your local drugstore and it's called The Nudes. And guess what-I really love it! It's the first larger sized palette that I have ever seen from Maybelline and I really hope they have new palettes like this for us on the regular from now on. But I think that this one is a great start. So many people crave nude shades for everyday wear.
When it comes to shadow quality I'd give this palette a solid B+. The mattes and the shimmers in this palette are very nice. I think the shimmers are a tad bit better than the matte shades when it comes to color payoff quality. I felt this way after doing quick swatches in a recent haul video and thats exactly what I found to be the case when I started using these shadows. I have been using this palette for about two weeks and I must say for $9.79 I really think its a good deal.
Here's a quick picture I took after using The Nudes palette for about two days. I had already done my swatches that I'll show you further down below so as you can see the palette has a great color line up. I'm glad I took this picture because the palette looks much more used now.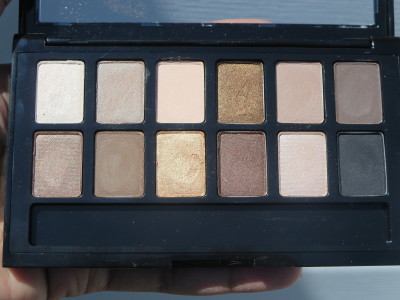 After I really started using the palette I found that it really works well with so many of my favorite Color Tattoos. Especially the recently released Leather collection (posted on here) that I picked up. You can create so many beautiful everyday looks or more dramatic ones with this baby! And as far as fallout I'd say that it is minimal. I have more issues with my ELF palettes that is for sure. I really do love my ELF palette though don't get me wrong. But sometimes things get messy!
Let's look at some swatches. I'll show you the first row of shades and then the second row. Feel free to click on a pic to make it larger.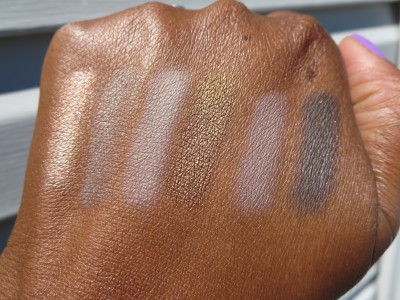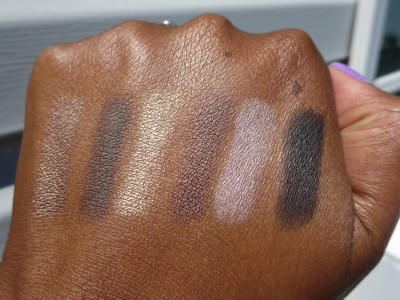 This is a palette that every drugstore diva or nude lover should consider. I picked mine up at Bed Bath & Beyond but haven't seen it at my local CVS, Walgreens, or Rite Aid yet. I know it will be there soon though. Check it out!