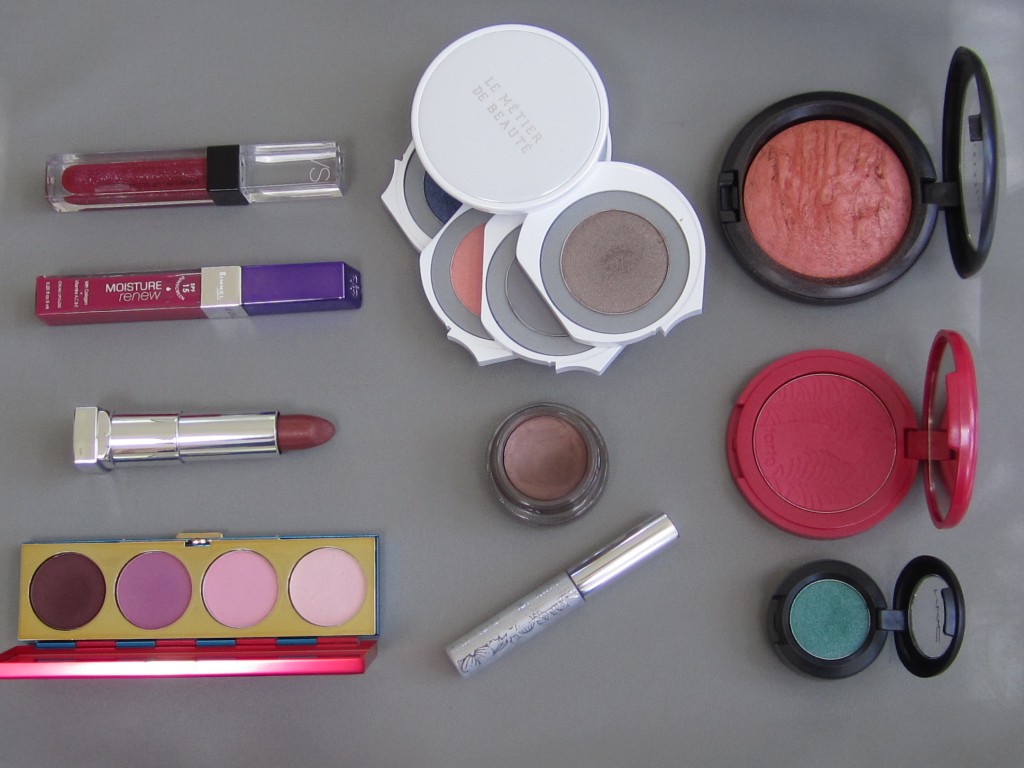 These are some of the items I showed a lot of love to this week. Here's more information on them in case your interested!
Left side…..
Victoria Secret Sparkling Lip Gloss Electric- Nice gloss, amazing packaging. The glitter is a bit thick in this formula but I love it anyway. Reviewed here.
Rimmel Moisture Renew Lip Gloss Purple Rescue- Good stuff, perfect balance of color payoff and moisture. Reviewed here.
Maybelline Color Sensational Lipstick Broadway Bronze #315- The perfect nude lipstick for me! I love this, reviewed here.
Mac Defiance Eye Quad- Pink eyeshadow can be scary this pretty palette from the Wonder Woman collection makes using pink on your eyes easy.
Center….
Le Metier De Beaute Splendid Frost Kaleidoscope- Excellent quality eyeshadows that when used all together create a beautiful eye look. I use them all together, individually, or  in interesting combo's. LMDB's Kaleidoscopes are my favorite things to play with!
Mac Constructivist Paint Pot- I love this thing:) It's my favorite paint pot hands down. This looks great by itself too. I usually put some powder shadow over top off it but it looks fine by itself when I'm feeling lazy.
Clinique Bottom Lash Mascara- I love using this tiny little wand on my stubby bottom lashes. Reviewed here.
Right side….
Mac Stereo Rose MSF- I use this several times a week every week. It's so beautiful. It completes me.
Tarte Natural Beauty Long Wearing Blush- This blush lasts forever. All day anyway without fail. Reviewed here.
Mac Jealousy Wakes Eyeshadow- Just about the perfect green eyeshadow. It's a veluxe pearl so it blends out smooth like butter. I swatched it in a recent post here if you'd like to take a closer look.