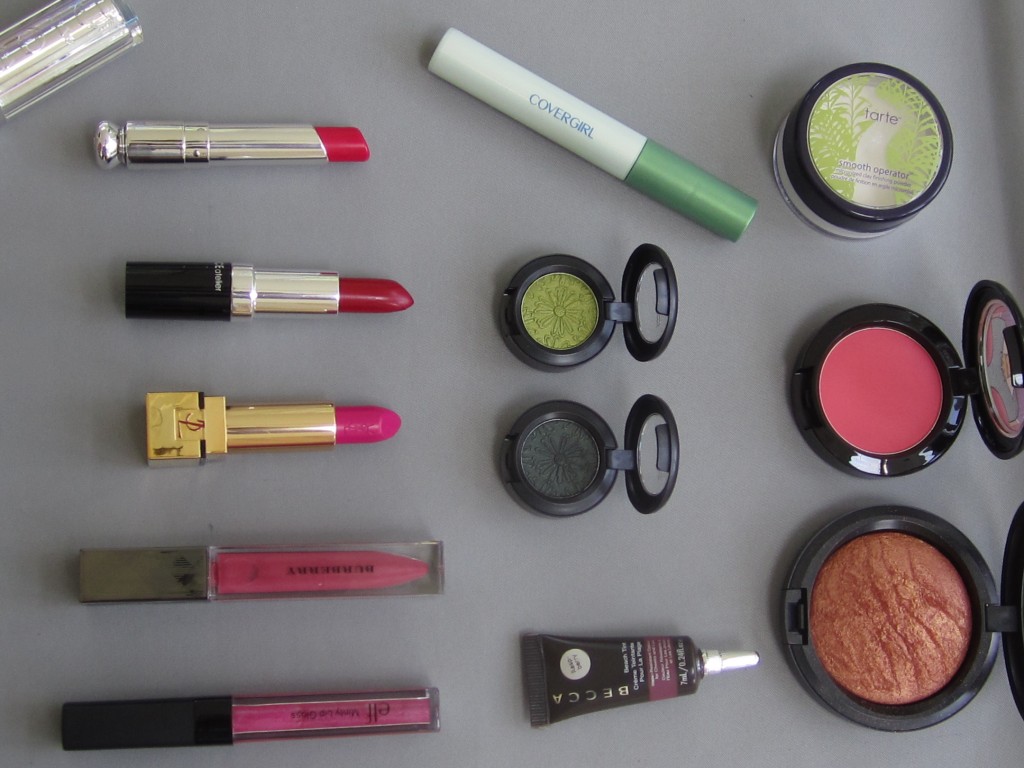 This week it was all about lip products for me. I was using pinks (as usual) and there was a little bit of red mixed in there. I fell in love again with two pretty eye shades from a recent Mac collection (Fashion Flower) and had different green eye looks most of the week. I have to review Covergirl Natureluxe Mascara for you, I've been trying it out for the last week. It's really good! Anyway here's a look at what was in heavy rotation this week on my face!
Left side….
Dior Addict Lipstick #865 Collection- Such a pretty glossy pink shade, check out the review here.
Face Atelier Red Fuchsia Lipstick- This is a really nice deep red shade. I reviewed it here.
YSL Rouge Pur Couture #7 Le Fuchsia- This is a good one to wear when your feeling sassy! Check out the review here.
Burberry Lip Glow Blush No.4- A new favorite, this is a pretty gloss that is in my purse now and will always be. Check it here.
E.L.F. Minty Lip Gloss Houston- This gloss is delicious, it tastes so good I want to lick my lips constantly. Check it here.
Center…..
Covergirl Natureluxe Mascara Very Black- I love this new mousse mascara, I have to review it for you guys this week.
Mac Lucky Green (Veluxe Pearl) Eye Shadow- This pretty green looks great in the inner corner of the eye. Swatches here.
Mac Bows & Curtseys (Satin) Eye Shadow- This deep green is a great crease color. It's swatched here.
Becca Beach Tint Raspberry- You can use this on the cheeks or the lips, its fantastic for both. Reviewed here.
Right side….
Tarte Smooth Operator Finishing Powder- This is a godsend in the crazy summer heat. It's reviewed here.
Mac Bite of an Apple Blush- This was from one of my favorite collections ever, Venomous Villains. Love this color!
Mac Gold Deposit MSF- This is a great highlight color and makes me look glowy without looking like I dipped myself in gold dust.