I'm almost positive you've heard about how wonderful Nars blushes are. In a recent contest most of you wrote that Nars Orgasm is your favorite blush. I don't have that one but I have a few others in my collection that I love. Here is a quick picture + swatchfest of my Nars blush collection. Enjoy!
Desire is a hot cotton candy pink shade that I just love! Despite the fact that it looks bright and a bit scary in the pan it looks gorgeous on the cheeks. This blush is just hot like fire! I love it!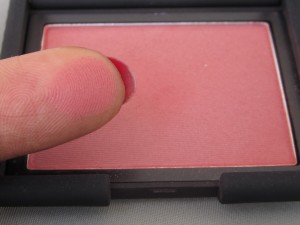 Dolce Vita is a dusty rose blush that is perfect for daily use. I think this is a great shade for almost every skin tone. If you are a very fair-skinned girl then just use a light touch with this one.
Exhibit A is a serious red. I know it looks scary as hell and a bit clownish in the pan but let me tell you it's so pretty on. You have to use a light touch with this one as well even more so than Dolce Vita.
Taos is a desert rose shade with a really pretty gold shimmer. I really love this color because besides having the best pigmentation the shimmer is just right in this shade. Not overpowering or disco ballish:) It gives you a great glow.
Mata Hari is a rose petal pink that is a nice alternative if you think Desire is a bit too bright for you. This is a little more goof proof and more suitable for daily use if you're a lover of pink.
Taj Mahal is a burnt orange shade with shimmer. As you can see I dropped this:( I almost lost it when that happend. I loooove this shade. It's my Spring/Summer staple because on deeper skin tones it gives an amazing glow. It looks a little scary in the pan but with a little practice you'll be able to get just the right amount on your cheeks to make you look like a goddess trust me!
Cactus Flower is a beautiful shimmering poppy shade that is the perfect cream blush for layering. Let me explain. What I like to do in the summer is use a cream blush and then a little powder blush over top of it to kind of make the color last throughout the day. I do this a lot with this beautiful color because it's just perfect. It's not too much color and with powder lightly applied on top it looks just beautiful.
I hope this peek into my Nars blush collection was helpful and you have some shades you might want to sample the next time you're at the Nars counter or at Sephora. Nars blushes retail for about $27 each.