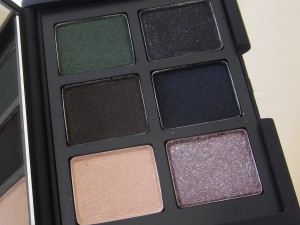 This palette looks amazing but I had lots of problems with it. Some of the colors just have too much fallout for my taste. I have wanted to get many of these colors for a while but individually they are usually $23 each so I never got around to making that investment. I was really excited when I saw a bunch of the colors I wanted to get in one palette. Instead of paying the individual per shadow prices this palette is $55. Not a deal under usual circumstances but at Nars pricing it is a deal!
Night Star, Night Clubbing, Night Porter, Night Rider, Night Flight, Night Breed
Night Star- Sheer Peach shadow w/gold pearls
Night Clubbing- Black w/gold pearls
Night Porter- Black w/green pearls
Night Rider- Soft Plum w/silver glitter
Night Flight- Black w/cobalt blue pearls
Night Breed- Black w/silver glitter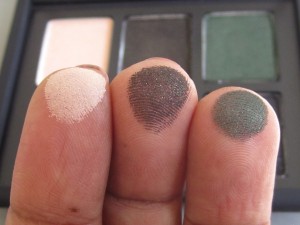 Night Star, Night Clubbing, and Night Porter
Night Rider, Night Flight, and Night Breed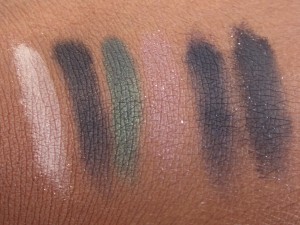 Night Star, Night Clubbing, Night Porter, Night Rider, Night Flight, Night Breed
So here are my thoughts on the colors.
I love Night Star, I got turned onto this by one of my favorite makeup artists Sam Fine. It's a great base color for lots of looks. There is some gold fallout that I don't love but its a great color on deeper skin tones even though it looks kind of scary in swatches.
Night Clubbing is one of my least favorites, the gold fallout is a mess. I do love Night Porter. It's a beautiful green and in using it I find that it's the least likely to be a fallout mess on your eyes. It's the most usable shade in the palette. Night Rider is such a disappointment. Its got this patchy chunky silver glitter to it that is large and to make this look decent you have to blend it to hell and back on you lid. It's such a pretty lavender shade but hard to work with in my opinion.
Night Flight and Night Breed are ok, I think Night Flight is a little more unique because its got the blue glitter effect but overall they are the same just a toss-up between blue glitter and silver glitter against a black base.
I'd skip this unless you REALLY want to have all these colors. With some work you can get a lot of use out of this palette but I think overall the quality and smoothness that I expect from Nars is missing. If you usually do your eye makeup before anything else like me this palette isn't going to be as annoying because your going to have fallout, it's a given.
Rated C