I say experience because it was one!
I went to Neiman Marcus for a Natura Bisse Facial last week. Besides being one of the best facials I've ever had, I also learned a ton of information about my skin and how to take care of it. The facial was administered in a bubble with pure oxygen coming in and I could write a whole piece on that but I won't. I'll just tell you it was relaxing as can be and I went in with cold symptoms and my usual sinus/allergy/asthma issues and came out feeling more clear-headed and calm than I've been in a while. From the outside the bubble looks really cool.
I took some pictures with my phone and tweeted them. Here a few of them are in case you missed that.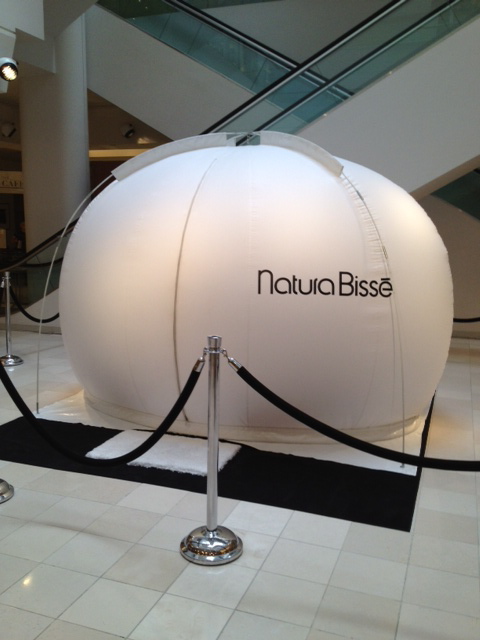 After the facial was over, I felt like a million bucks and I looked darn good too. I have so many problems that were addressed with the products used in my facial. Flaky skin on my forehead, discoloration in different areas of my face, and dry cheeks just to name a few issues and after the facial….you couldn't tell. I can't say enough about how fantastic my skin looked. I looked like I had all new skin. My face looked shiny and radiant. I couldn't have been more pleased. Days later my skin still looks fantastic. What an experience! I highly recommend if you ever see something like this offered you jump on it.
I make the mistake of caring so much about adding makeup and color to my face that I tend to forget that the most important thing is taking care of my skin. I have to try to remember that. There were a few things from the Natura Bisse line of products that I wanted to try. I was so happy with everything used on me in the facial that some of it had to come home with me for further…testing. I snagged the product descriptions off of the Neiman Marcus website so you can see what each product does.
Facial Cleansing Gel + A.H.A., 7 oz. ($49)
Gently and effectively removes make-up and surface impurities without upsetting the natural pH balance of the skin.
Contains alpha hydroxy acids, which gently yet effective exfoliate skin's texture, leaving it luminous, soft, and ready to absorb the maximum benefits of products being applied afterward.
Hydrates and repairs skin, leaving it soft and supple, with allantoin, aloe vera, and vitamin B complex.
Oil-and alcohol-free.
Stabilizing Toner, 7 oz. ($40)
A complexion-clearing toner that imparts a smooth matte finish.
• An astringent mattifying toner that meets the needs of oily and acne-prone skin.
• Controls overactive sebaceous glands and prevents the spread of bacteria.
• Restores smoothness, tightens pores, and imparts a matte finish.
• Anti-inflammatory and calming properties.
• Restores a normal oil/water balance.
• Pure salicylic acid and willow bark extract enhance skin cell turnover and provide antibacterial benefits without drying or irritating skin.
• Natural botanical extracts of rosemary, tea tree oil, aloe vera, and burdock.
Stimul-Eye Active Gel, 1 oz. ($68)
Revitalize eyes and diminish dark circles and puffiness with this intensive seaweed-powered treatment.
• Revitalizing action and toxin drainage activates immediately after application.
• Decongests eyelids, smoothing out fine lines and wrinkles.
• Lightweight, oil- and fragrance-free formula.
• For all skin types.
• Recommended for sensitive eyes and contact lens wearers.
Oxygen Complex, 1 oz. ($145)
Infuse skin with oxygen, revitalizing and restoring skin's vitality.
The oxygen and water then:
Purify and decongest skin.
Generate a healthy, glowing, and vibrant complexion.
Soothe and comfort skin.
Hydrate the skin naturally, avoiding skin dehydration.
Clarify to fade away hyperpigmentation.
Help control oil production.
Even skin tone for a fresh, natural look.
It's been a little less than a week but I really like how my skin looks and feels after using the products above. I am using the moisturizer that I had before twice a day but I'm using my new Natura Bisse products and I love them. I was especially excited about the Stabilizing Toner and it's really my favorite product so far. Anything that can tame my oily t-zone is a must have. I already have my eye on a few more products. I'm going to use what I got after my facial for the next month and then reevaluate.
Are there any skin care brands that you swear by? I was a Cetaphil and go girl before this but I noticed a change in how my skin behaves almost right away from using products geared toward my skin.