YSL Rouge Volupte Fuchsia Tourbillion #31, $34 at Nordstrom
I had to try this one. It's Fuchsia for gods sake. I live and dream in fuchsia!
YSL Rouge Volupte's are legendary. I love them and re-apply often. The new Spring 2014 Collection called Flower Crush is full of amazing colors but this was the one I zero'd in on. I can't say no to a fuchsia. I justify it because I know this is a color I will wear often. I wake up every morning and want fuchsia lips after all. I am obsessed.
If you have never tried a Rouge Volupte here's a few things you should know. The pigmentation is great. The formula is moisturizing but you are going to need to reapply often. Every 3-4 hours in fact but it will be a pleasure. I just love it. The packaging and price make this a luxury product that is a treat for yourself. Choose wisely. You have to be beyond psyched about it when you pick up one of these and keep it in your stash!
But alas this didn't work out like I thought it would. This is a rather bright blue based pink (not so much fuchsia to me!) and thats not a great fit for me. I can't do Mac's St Germain and this is darker but along the same vein. I need a liner stat to make this puppy werk!
Here it is without anything…it's screaming for a liner!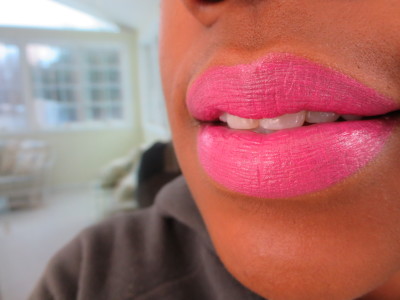 From the Nordstrom website:
A texture that transforms with ultimate sensuality. Both light and covering, the cream texture becomes fluid on contact with the lips, for a delightful feeling and an exceptional gliding effect. A nutri-protective vegetal complex nourishes your lips, keeping them smooth, soft and comfortable.
An object that arouses women's desire. This ultra-sensual texture is presented in an elegant case with beautiful feminine curves. The golden metallic tube is adorned with an intricate ring to discreetly reveal the shade and a clever mirror for easy and quick makeup at any time of the day.
A generous range of radiant shades. Thanks to the glossy film that reflects the light, and the color-shine complex that magnifies the color, this new lipstick will make your lips simply irresistible. Exquisite beige, luscious pink, enchanting red: choose your own voluptuous attitude.
And finally here is how it is with a plummy liner (it's actually a plum Tarte eyeliner) around the edges. Its much better! Now you know why I said earlier you have to choose wisely right?